Anci Dy tops sister, field in Girls Junior PGA Championship
BATTLE CREEK — Anci Dy trumped her sister, Anika Dy, and the field at the 2019 Michigan Junior PGA Championship, shooting a 1-under 71 at Bedford Valley to claim the title.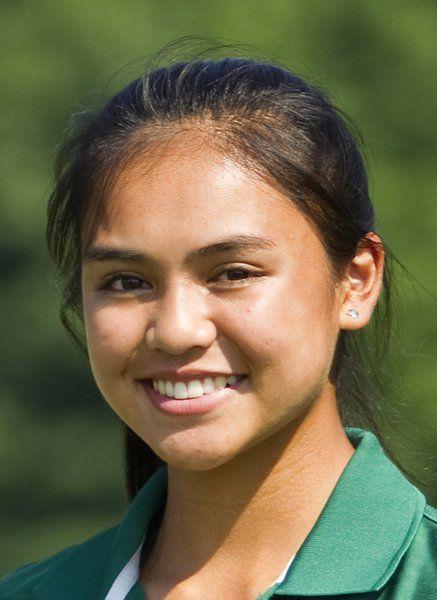 The soon-to-be Traverse City West junior won the event days after her elder sister won the Michigan Women's Open, adding to quite the recent run of success for the Dy family.
Anika happened to be the defending Junior PGA champ — dethroned by Anci — as Anika finished tied for sixth at 10-over for the tournament.
Anci shot 1-over for the event and overcame runner-up Allison Cui, who shot even par in the opening round, which included an eagle on No. 1.
Anci may have held the lead after Thursday's first round if not for the fact she went double bogey, bogey, double bogey on Nos. 16, 17 and 18, dropping from 3-under to 1-over.
Anci's run of bogeys continued on day two, hitting five shots on the par-4 No. 1, but she birdied Nos. 5, 15 and 16 to resurrect her score.
Cui was 1-over on the front nine Friday, and she was 2-over on the back nine.
Anci effectively won the event on No. 16, which she birdied in four shots, while Cui shot bogey on six. Cui finished two strokes behind Anci for the tournament at plus-3.
Anika shot a plus-6 78 on Thursday and rebounded a bit on Friday with a plus-4 76. For the tournament, Anika had three birdies — all on Day 2 — 13 bogeys and 20 pars.
Pop Warner Football camp upcoming
The Grand Traverse Bay YMCA and TC Youth Football will be hosting a non-contact Pop Warner youth football camp July 16-18 from 6-8 p.m.
All players ages 8-12 may register. Players will need a mouth guard, water bottle, and outdoor cleats. Each registrant will receive a camp T-shirt. Cost for the three-day camp is $50 for Y members and $65 for community participants.
The camp will be held at the West Y athletic fields on Silver Lake Rd.
TC Youth Football Pop Warner coaches will be on hand to run drills, and work on the basic skills of youth football. TC Youth Football (www.tcyouthfootball.org) registration is currently underway for YMCA Pop Warner Football for their fall league. For more information, please contact the Barb Beckett at 231-933-9622 or visit www.gtbayymca.org.
2 TC rowers invited to U19 Olympic development camp
Anna Breederland and Wren Wodek, each of Traverse City and the Lake Leelanau Rowing Club, were named among the athletes invited to participate at the 2019 USRowing U19 Women's Olympic Development Program Camps this summer.
These three-week, curriculum driven camps will be hosted in each of USRowing's six regions and focus on developing the mindset and skills needed for success within the Olympic system. The camps will be capped off with a culminating event, the ODP Summer Cup, scheduled to be held July 7-14 in Sarasota, Fla.
Participants in the USRowing U19 ODP program have the opportunity to develop as athletes, receive quality instruction, be exposed to regional, collegiate and national team coaches, race against top-level competition, and represent their region in competition.
New DI hockey conference a possibility
Seven prominent NCAA Division I men's hockey playing institutions have announced the exploration of a new Division I men's hockey conference that would begin play with the 2021-2022 season. The seven institutions include: Bemidji State University, Bowling Green State University, Ferris State University, Lake Superior State University, Michigan Technological University, Minnesota State University, Mankato, and Northern Michigan University, according to a press release from Morris Kurtz, Athletics Consultant.
The group is comprised of institutions rich in history and tradition with a strong commitment to academic and athletic excellence. They are like-minded in their goals and aspirations for the potential new league with a focus on improving regional alignment and the overall student-athlete experience while building natural rivalries within a more compact geographic footprint.
As current members of the Western Collegiate Hockey Association (WCHA) men's league, the schools have independently submitted formal Letters of Notice to the conference office, initiating the withdrawal process in accordance with WCHA Articles of Incorporation and Bylaws. The institutions will continue to play in the WCHA during the 2019-2020 and 2020-2021 seasons.
The seven institutions have engaged Dr. Morris Kurtz, a long-time athletics administrator and noted athletics and hockey consultant, to serve as spokesperson and to assist them as the group sets out to transform the college hockey landscape.
YMCA hosting lacrosse camp
The Grand Traverse Bay YMCA is hosting the fourth annual Warrior Lacrosse Camp July 10-12 at the West Y athletic fields on Silver Lake Rd. Camp begins at 9 a.m. each of those days. Current college and high school lacrosse players will be on hand to offer lacrosse skills and drills. For more information, please check www.warriorselitelax.com.