TRAVERSE CITY — A returning champion and a fresh face raced to the top spots of the Festival of Races 5K on Saturday.
Philip Spitzer, the 2018 15K winner, and Trish Black, who had never previously competed in any festival event, torched the competition.
Spitzer, a Buckley native, finished with a time of 15 minutes, 57.10 seconds, while Black covered the course in 17:43.19.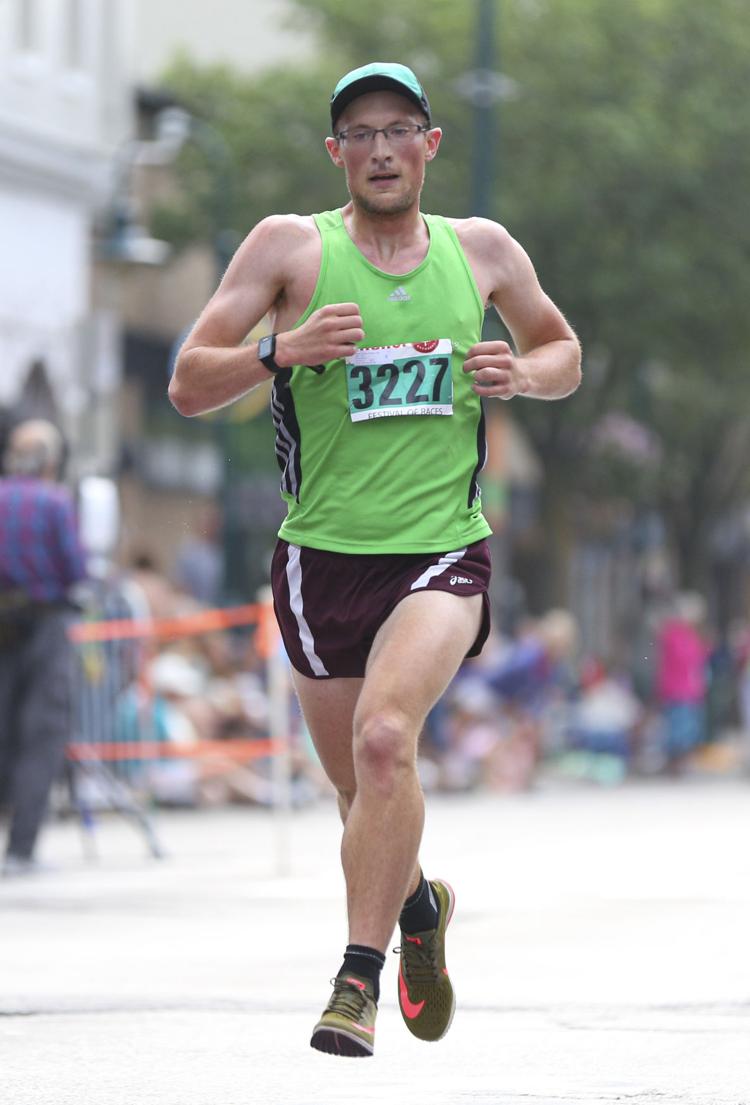 Spitzer dropped from the 15K to the 5K because of a nagging Achilles injury he suffered years ago in college. The Waverly, Iowa, competitor still managed to outdistance second place by more than 23 seconds.
"Pretty happy," Spitzer said. "I came in not knowing what sort of shape I was in. I put myself out there in the front and ran away with it. I'm pretty pleased. I'm not really concerned about the time. I just wanted to win today."
Spitzer said his Achilles hasn't allowed him to train at as high a level as he'd like, but the entire field stayed behind him after the race's first 100 meters.
"Each race brings its own challenges. The different distances — last year the 15K, year before that the 10K — there are different strategies," Spitzer said. "The 15K usually has tougher competition. You have to be a little more measured. In the 5K you can afford to go out a little harder."
Caleb Gaffner (Hudsonville, Mich.) finished second with a time of 16:20.30. Cole Jensen (New Era, Mich.) was third in 16:32.37. Craig Manning (Traverse City, Mich.) placed fourth in 16:36.84. Andrew Cusmano (Grand Rapids, Mich.) posted a time of 16:49.44 to round out the top five.
Black posted an even greater advantage over the rest of the women's field.
The Savoy, Ill., resident went sub-18 minutes. Her closest competition couldn't crack sub-19.
"I wasn't sure (if I would win)," Black said. "You never know which college kids are going to show up. I just wanted to come out, have some fun and race my hardest."
Everything was new for the first-time Festive of Races participant. She'd been to the area before, visiting family, but never run.
Black took a measured approach to the race, allowing other runners to take off quicker. She picked them off one by one.
"(There was) a fast start to it. I didn't want to get caught up in that and go out too hard," Black said. "I tried to stay controlled the first mile and just keep catching people as I went. I knew it was going to be a fast start."
Emma Steinglass (Toledo, Oh.) was the women's runner-up in 19:00.85. Jami Hollandsworth (Williamsburg, Mich.) placed third with a time of 19:11.64. Felicia Mondry (Traverse City, Mich.) took fourth in 19:56.60. Anastasia Diamond (Daytona Beach, Fla.) was fifth with a time of 20:10.30.