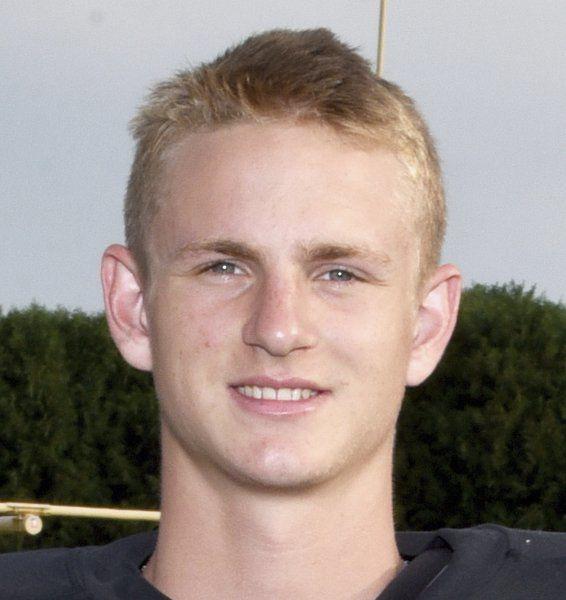 TRAVERSE CITY — Traverse City Central standout athlete Tobin Schwannecke could hear the clock ticking down the time he had left to make a college decision.
The weight wasn't crushing, but the two-sport star felt the pressure building as signing day loomed. He chased every lead and weighed every opportunity.
Schwannecke finally announced his choice Wednesday at Central's signing day ceremony, selecting NCAA Division II Grand Valley State University in Allendale.
The high school quarterback and point guard will play football and basketball for the Lakers.
"It's good to get off my shoulders," Schwannecke said. "I want to thank Grand Valley. They were there the whole time and they didn't rush me. It's a blessing the opportunity they gave me, and I'm very thankful for it.
"They were the only school to offer me for both sports. They trusted me from the get-go. It definitely felt like I was part of the family even if I went to a different school next year. Grand Valley's winning tradition is something I want to continue to be a part of."
Schwannecke departs Central as one of its most decorated athletes. He was a four-year varsity starter for the basketball team and three-year varsity starter on the football team.
His accolades piled up. He was named first-team all-Big North Conference quarterback three years running, leading the Trojans to the playoffs each season.
"He had a great high school career, but what people don't see is they're getting a gritty competitor," Central football coach Eric Schugars said. "How he competes, how he is on the field and in the huddle. He's a fierce, gritty competitor. He'll bring that to practice every day and earn everything he is given now."
Schwannceke finished his career on the gridiron having completed 314 of 618 passes (50.8%) for 4,600 yards, 52 touchdowns and 24 interceptions. He rushed 432 times for 2,689 yards (6.2 yards per carry) and 31 touchdowns.
Schwannecke also earned first-team all-Big North honors his sophomore, junior and senior basketball seasons, too. He eclipsed 1,000 career points last season.
He was honorable mention all-state as a junior and senior in both sports. In a previous interview on the Record-Eagle's podcast, The Get Around, Schwannecke said he wouldn't have been able to choose between the two sports if only give the choice of one.
"Grand Valley is getting one of the toughest competitors you can find at that age, one of the hardest workers and a kids that is not gonna back down from anyone," Central basketball coach Travis Schuba said. "He's put in the time, he's worked his butt off and he feels he's the best and that's why he has become the best.
"His drive and motivation to be great puts him above other athletes. That will only continue when he's surrounded by other great athletes fighting for minutes."
The toughest challenge Schwannecke may face is handling the rigors of two sports, plus the academic load.
He said he's been given advice on how to handle the converging commitments, but none from anyone who has actually done it.
"It's going to be very difficult and will push me to my limits, but that's the reason I'm doing it in the first place," Schwannecke said.
Schuba believes Schwannecke's mental makeup will go a long way in helping him persevere through it all.
"He's a very humble kid for all the success he's had," Schuba said. "But there is an ego side of things, and someone of his stature uses that, even if he doesn't portray it, as 'I can do this.' He's the kind of kid who will take it, run with it and show you how."
Schwannecke said he always viewed his prep athletic career at Central as stepping stone, "Just the beginning."
"I did have much bigger goals in mind," he said. "I couldn't achieve those without my time at Traverse City Central.
"I thank God and my family — my mother and father and two brothers. They were on me from day one and wouldn't let me settle. I would not have this opportunity without my family. I can't be thankful enough for my coaches at TC Central. It was an awesome process, and I'll definitely look back at it without any regrets."
Eight more Central athletes signed to play collegiate sports alongside Schwannecke on Wednesday and will have their individual stories detailed in future stories.
Ethan Richey (lacrosse) signed with Albion, Preston Briggs (basketball) signed with Wisconsin - Stout and Marty McDonald and Matt Corrado (baseball) signed with Muskegon Community College.
Riley Sullivan (baseball) signed with Macomb Community College, Sam Schmitt (baseball) signed with Grand Rapids Community College, Matt Henkel (tennis) signed with Hope College and Jordon Christopher (track) inked with Adrian.