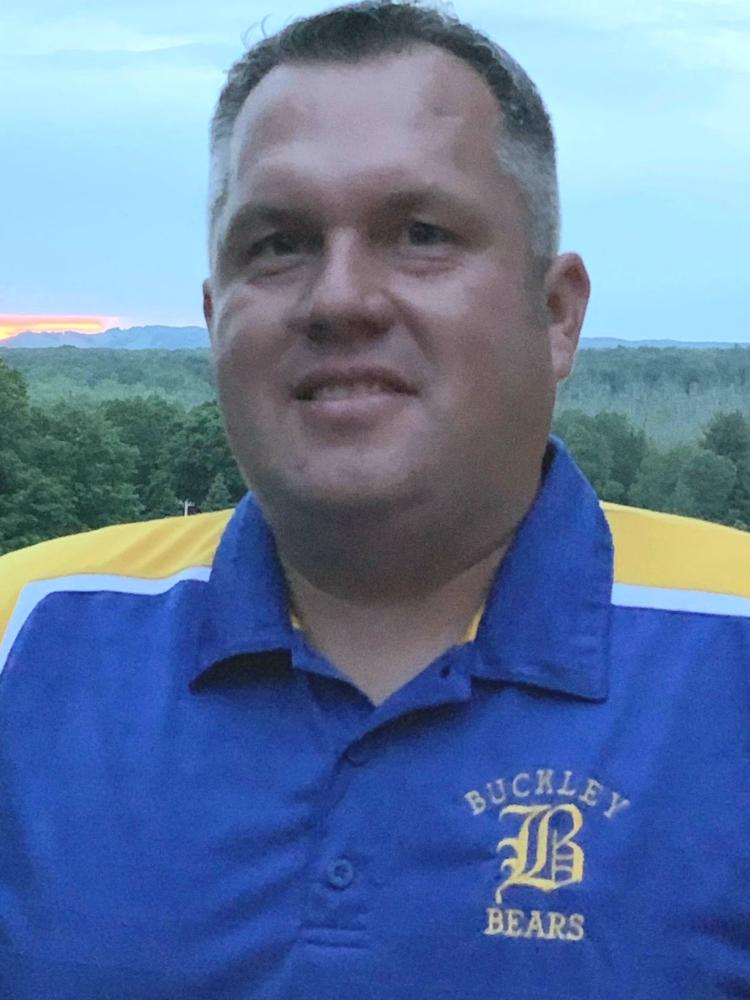 BUCKLEY — Buckley may not be as heavily infused with talent as when the Bears made back-to-back trips to the Class D state championship game two and three years ago, but new boys basketball coach Jared Milarch believes the community and its up-and-coming players still have what it takes to be a competitive program.
The former Benzie Central player said Buckley has always been special, even back when he was trying to beat the Bears as a Husky.
"Basketball in Buckley is similar to football at other schools," Milarch, 40, said. "Buckley has a ton of community support and it's a big deal. It's different, special and something I really liked.
"Winning is a culture. It takes diligence and hard work. The Buckley community is home to some of the hardest working people I know."
Milarch's hiring was made official at Tuesday's school board meeting. He replaces Marvin Jones, who coached the Bears to a 9-12 record in his first and only season as head coach.
The father of two isn't new to the Buckley scene. He has coached youth basketball in the community for a handful of years, and his son, Tyler, will be a freshman this fall. His daughter, Kayla, will enter sixth grade.
Milarch has coached third- and fourth-graders and was the eighth-grade coach last season. He also served as a varsity and junior varsity assistant. His experience among various age groups over the years puts him in the advantageous position of continuing to coach the players he oversaw as young boys.
"I'm looking to coach for a long time," Milarch said. "It'd be a pretty special and unique opportunity to coach some of these kids from third grade all the way through (high school)."
Milarch did not apply for the head coaching position when it came open a year ago after Blair Moss stepped down, but after juggling some changes to his work schedule and other commitments, he fell capable of being the "two-feet-in guy" he always attempts to be.
He has thought about his own experiences as a high school basketball player, and couldn't shake the desire to help others accomplish something akin to his team's own trip to the Final Four and Breslin Center in 1997.
"How do I provide that opportunity for other kids?" Milarch said. "I've made some changes that allow me the time to follow coaching the way I want to. I'd never commit if I didn't have the time and energy to do it. I've always had the passion for it, but now I have the ability to.
"The group of kids coming through is willing to work, and I'm willing to keep that fire burning."
Milarch has already been working with the team through open gyms and off-season activities. He hopes for 9-10 freshman to inject some youth and depth into this season's team and noted that 12-15 players have been consistently attending the summer sessions.
Schematically, he plans to employ pressure man-to-man defense with an efficient half-court offense. He said he'll allow his team to push the tempo within reason, but that control is what he's after.
"It's important to me to keep things simple," he said. "Coaches will try to run too many plays or too complex of a scheme. We're looking for 110-percent effort every second on the floor. We're going to get after the basketball. We've tried some very complex sets, but to me, when you simplify it, the kids respond and they've been playing to a high level.
"I have the ability to explain things to kids so they understand it. We've had a good rapport in the early month or so."