TRAVERSE CITY — Ups and downs, winding trails and sand each played a role in a particularly tough opening 5K of Saturday's Festival of Races half marathon.
Ryan Hofsess (Royal Oak, Mich.) and Rachel Walny (Clinton Township, Mich.) aced those tests en rout to winning the festival's longest race.
"The segment through the winery was like cross country, running through hills with sand and it made it tough," Hofsess said. "I was able to separate myself there."
Hofsess posted a winning time of 1 hour, 14 minutes, 18.97 seconds. Walny — the 2016 Festival of Races 5K champion — won with a time of 1:16:52.85.
Hofsess' greatest challenger, aside from the course, was Suttons Bay native Kevin Cataldo (1:14:30.45).
Cataldo sized up Hofsess at the start line as one of the top runners and took off after him at the run.
"It was more of a European cross country first 5K," Cataldo said. "A lot of sand, a lot of hills, a lot of turns and time kinda went out the window at that point."
Cataldo did all he could to reel in the Detroit Mercy dental student, but Hofsess' recent training runs through Chandler Hills, near Boyne Falls, helped push him through.
"(Hofsess) put a big gap on me once we were out of the vineyard. I caught him at 5K," Cataldo said. "My hat is off to him, he did a great job every time I caught him. He'd hold on and then put a surge in. I tried to take the lead at seven miles, he put another surge in and we stayed the same distance apart the whole time."
Hofsess said the pair battled hard over the course of the race.
Cataldo had never run the Festival of Races half marathon before. He said it was more difficult than he anticipated.
"Little did I know it would be that taxing," he said. "It wasn't as enjoyable as I thought it was going to be, but it was a great view.
"I'm not satisfied to be honest. I'm in much better shape than that time shows, but at the end of the day it comes down to the day and he was the better man. He ran a great race."
Todd Fergus (Oneida, Wis.) placed third in 1:19:00.38. Matthew Nester (Lake Leelanau, Mich.) finished fourth in 1:19:07.65. Erick Rizzio (Traverse City, Mich.) grabbed fifth in 1:22:01.18.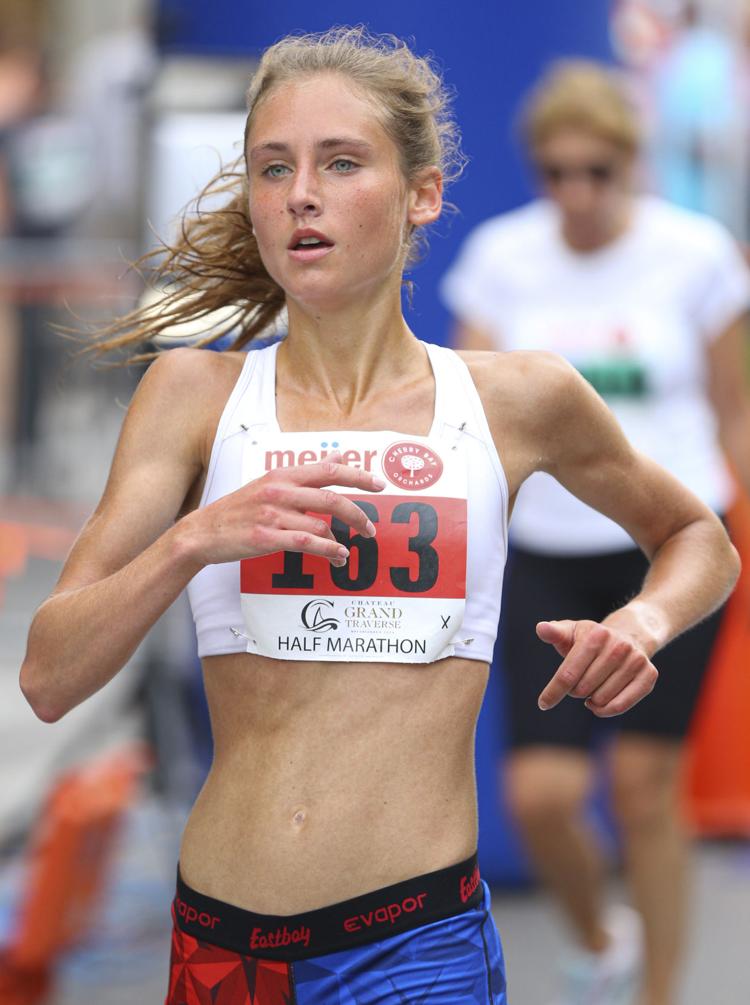 Walny's victory wasn't quite as tightly contested. She finished the half marathon in 1:16:52.85. More than seven minutes elapsed before Devon Sutton (Royal Oak, Mich.) crossed the finish line in 1:24:32.53.
"I was by myself most of the time, but it's a really pretty course," she said. "It was fun."
The 2019 Bowling Green graduate and former runner said she plans to keep competing in longer road races as she makes a push to run professionally.
Adrian Neal (Colorado Springs, Colo.) placed third in 1:24:56.37. Meg Ryan (Takoma Park, Md.) was fourth in 1:29:21.06. Kirsten Goble (Ankeny, Iowa) posted a fifth-place time in 1:33:41.68.