TRAVERSE CITY — The Festival of Races 10K event held a bit of surprise and uncertainty for its winners Saturday.
Neither Nicholas Hoffman nor Lauren Jenkins had ever competed in the Traverse City 10K before — Jenkins hasn't even ever run a 10K — but each found a way to cross the finish line first anyway.
For each, either the course, distance or experience — or some combination of the three — created a challenge.
"It was a bit odd because it was first time," Jenkins said.
Hoffman, who runs collegiately for Hope College, said he covered the first half of the course and felt OK, so he "put the hammer down a little bit to make sure I was keeping the effort honest."
Hoffman finished the race in 34 minutes, 4.01 seconds, almost a minute faster than runner-up Sam Baustert (35:01.71.), who was also running his first 10K.
"The goal today was to go out there and put in a solid effort — not to kill ourselves, but to see where we're at," Hoffman said. "A little more elevation than I was expecting, but since I've never run the 10K course before I don't know what it's supposed to be like. Traverse City is such a beautiful place, anywhere you go is a good time."
Baustert was surprised by the speed the leaders began the race with. He said the first mile was about 5:15, which is usually what he runs for a 5K. He decided to push his pace and try to keep up anyway.
"I dropped back a little bit, but I was able to start coming up slowly and get ahead," Baustert said. "The guy I came up with, Damien (Halverson), got a bad stitch halfway through the race. He had gone ahead when I couldn't keep up. When I caught back up to him, he told me just to go ahead and I ended up catching a few more guys."
Bo Sheperd (Horton, Mich.) finished third with a time of 35:31.94. Halverson (Hesperia, Mich.) was fourth in 35:47.83. Evan Bleitz (Milan, Mich.)placed fifth in 36:30.38.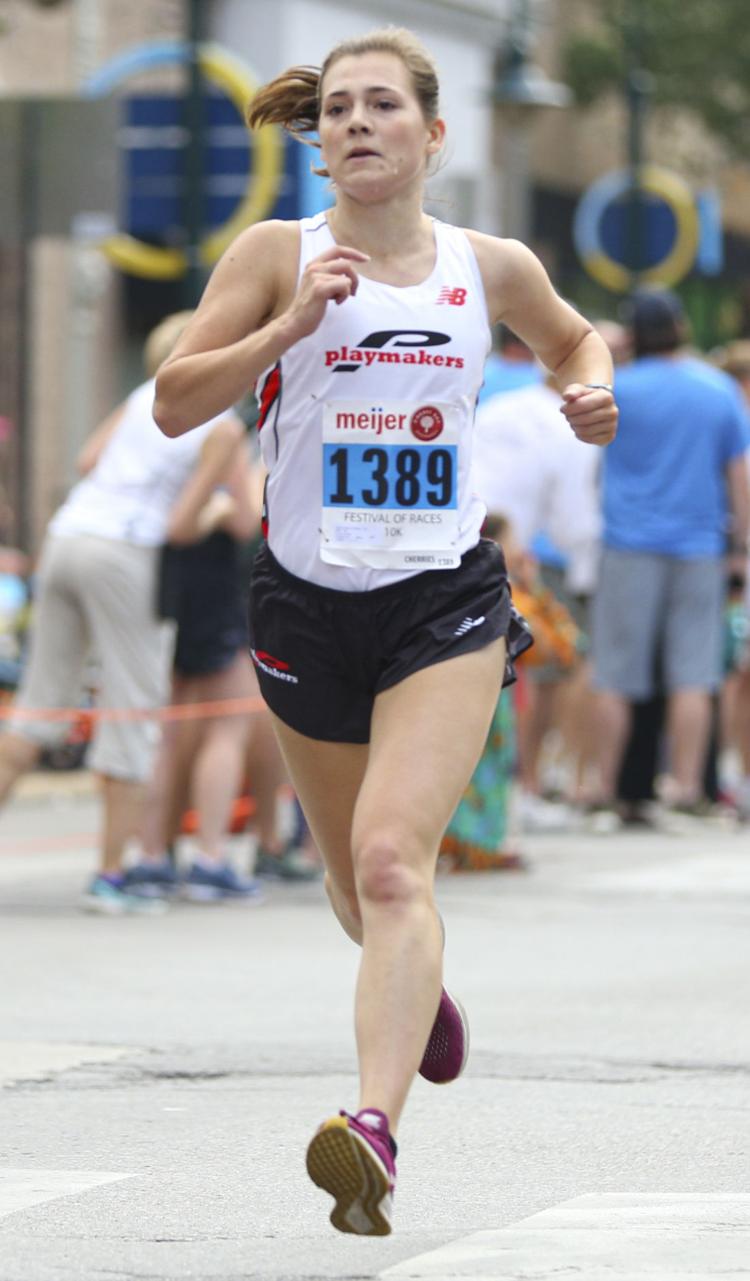 Jenkins (Saugatuck, Mich.) just graduated from Michigan State in the spring. She had focused on running 3K races during college, but decided it was time to up the ante.
"I haven't done a distance like that before," she said. "It was all right overall. ... Just graduating from college and wanting to try something new for the first time."
Her first-place time of 37:48.89 outpaced Traverse City Central High School standout Julia Flynn (38:29.67).
"I sat back a little bit because I didn't know what pace I should be going for a 10K," Jenkins said. "I started to pick it up more about halfway.
"I probably would concentrate more on pace (next time). Halfway through I was in no-man's land. It helps to have someone to race next to."
Hanna Grant (Lake Leelanau, Mich.) placed third with a time of 40:48.75. Sophia Rhein (Traverse City, Mich.) posted a fourth-place time of 41:37.29. Julia Robleski (Wheaton, Ill.) claimed fifth place in 41:53.52.