TRAVERSE CITY — A two-time defending champ was unseated, and a first-time Traverse City visitor made a great first impression during the 2019 Cherry Mile men's and women's elite races.
Jake Edwards made a late move to grab victory over the final 100 meters of the men's race, knocking off two-time defending champion Mitchell Black and the rest of an incredibly competitive field. Jaimie Phelan earned the women's title by less than a one-second margin in the Ontario, Canada native's first visit to the Cherry Capital on Thursday.
Edwards (Delaware, Ohio) actually reclaimed his crown after winning the event in 2016. He hadn't returned to the Cherry Mile either of the last two years to defend that title.
"I usually go up to Charlevoix for the Ryan Shay Mile, but I had some time off work for the holiday and figured I'd come up," he said. "The family is with me, so it's a good time."
Edwards' race went more or less according to plan. He picked out his spot during warm ups where he thought he would push as hard as he could through the finish. The only complication turned out to be that his mark was closer to the finish line that he thought.
That could have been trouble because by the time Edwards hit his spot, the long-striding Wuoi Mach was leading the race.
"It kind of snuck up on me," Edwards said. "When I went I thought it was more like 150 or 200 (meters from the finish), but we were only 100 out. I had to dig to get around (Mach). He's got a big stride, but I was able to get around him and hold it."
Edwards (4:00.27) ended up beating Mach (4:00.57) by three tenths of a second.
Edwards said the crowds lining Front Street helped make the race fun and added a little extra energy.
"A lot of the races I've been doing this year have been on the track, where fans are limited sometimes," Edwards said. "They're quiet little time trial type races. It's fun to get out in front of a crowd and have some cheers at the home stretch and fight pretty hard that last 100."
Mach had never run a road mile before. The Sudan-born competitor admitted he may have made his charge a bit too soon.
"I tried to make a move a little too early," Mach said. "I think I showed my cards. I should've probably waited a little longer, but I gave all I had today. He was just better, a little smarter than me at the end. Learn from it and move on to the next race, I guess."
Mach, who runs for Gazelle Elite Racing out of Grand Rapids, was very impressed with the Traverse City crowd, too.
"The crowd was amazing. Definitely happy to be here," he said. "That last 200 to go was crazy loud."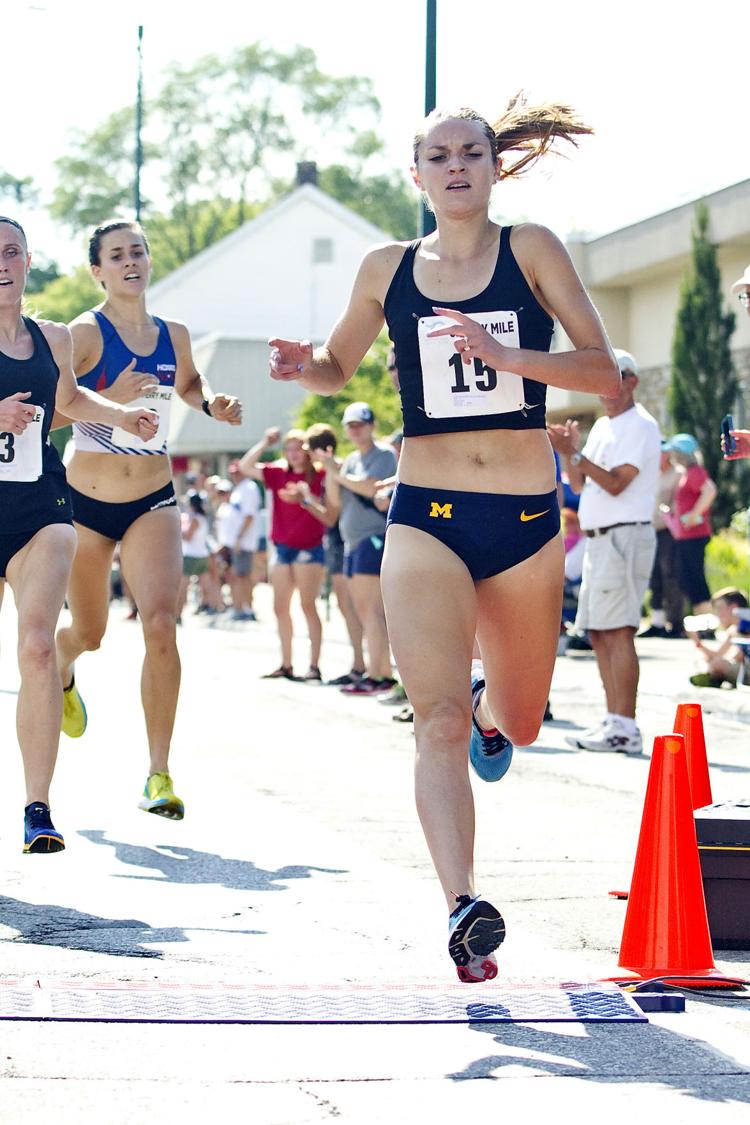 Phelan's women's elite victory was nearly as close as Edwards' on the men's side. The University of Michigan graduate edged Sarah Berger (4:42.48) by 61-hundredths of a second with a time of 4:41.87.
"It was a good first road mile for some of us," Phelan said. "It was raining before and the heat has been up and down, but it's definitely a fun race. It's an awesome event that Traverse City Track Club put on."
Phelan walked the course Wednesday night with one of her True Blue Elite Professional Alumni teammates to get a feel for it before the race. She has also been training with one Canadian Olympian and two American Olympic hopefuls, so she had her bases covered come race day.
"Once you're running it feels a little different," she said. "You're just trying to stay with the girls around you and be as competitive as you can be. It's having fun too."
The top five finishers recorded times within an eight-second window. Phelan said runners jostled for position a bit throughout the race.
Jamie Morrissey, a former U-M teammate of Phelan's and two-time All-American, finished third (4:43.24). Aurora Rynda, who just finished her freshman season at Michigan, placed fourth (4:46.95) and Rachael Walters, the 2019 GLIAC Female Track Athlete of the Year, timed in at 4:50.49.
Danah Al-Nasrallah, a Kuwaiti Olympian, was sixth in 5:23.01.
"We definitely want to go check out more of the festival tonight, and run with the kids after this and get to see a little of Traverse City before we head home," Phelan said.
Back on the men's side, Zach Panning, a three-time Division 2 NCAA champion, finished third (4:02.01). Louis Falland, a former NAIA national champion miler, was fourth (4:02.56). Morsi Rayyan, a pervious all-Big Ten selection, was fifth (4:04.81). Mitchell Black, the two-time defending Cherry Mile champion, was sixth (4:19.82) and Stepehn Biebelhausen, a Miami (Ohio) graduate, was seventh (4:22.16).
High School Elite
Traverse City Central's Julia Flynn surprised herself by blowing the field away in the girls high school elite race.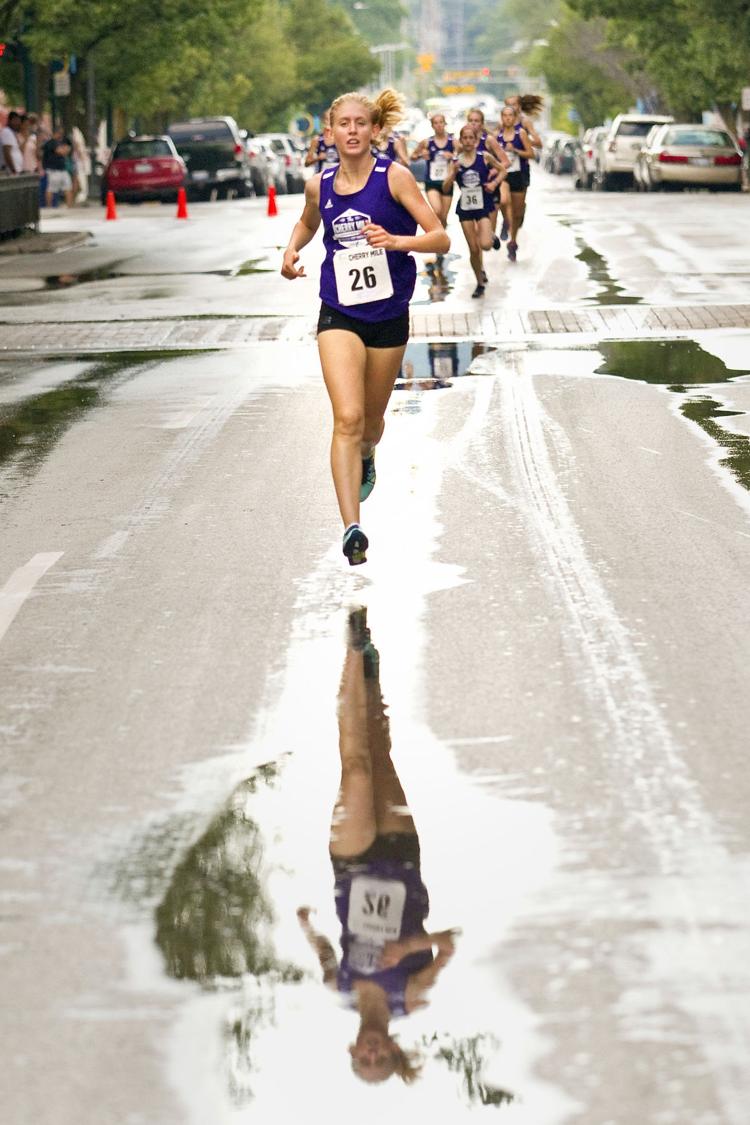 The soon-to-be sophomore finished the race in 4:58.87 — better than 10 seconds ahead of future West Ottawa freshman Arianne Olson.
"I'm really happy with my performance and really surprised with myself," Flynn said. "I thought they were going to catch me at the end, but then looked back and, oh, OK. I was expecting them to beat me at the end because I thought I started out too fast."
Flynn said she practiced some pacing on the track in preparation of Thursday's race. She wasn't happy with some of her times during the track and field season and felt the need to retool.
"I tried not to get really nervous for this one," she said. "I did a little pacing on the track for this because I didn't think my pacing was that great during the season. I saw my fitness not matching my times. Today, I was just like, go out there and see what you can do with your new pacing."
Olson was happy with the runner-up finish. She said she knew there would be some talented runners in the field.
"I knew there was some fast people, but I didn't know how I was going to do since it's so early in the summer," she said.
Olson, who competed in the Gazelle Elite indoor races (1600, 3200), said she finished four seconds off her PR.
Two-time Michigan state champion Jeremy Kloss, from Harbor Springs, won the boys elite high school race, finishing with Fremont's Nathan Walker hot on his heels.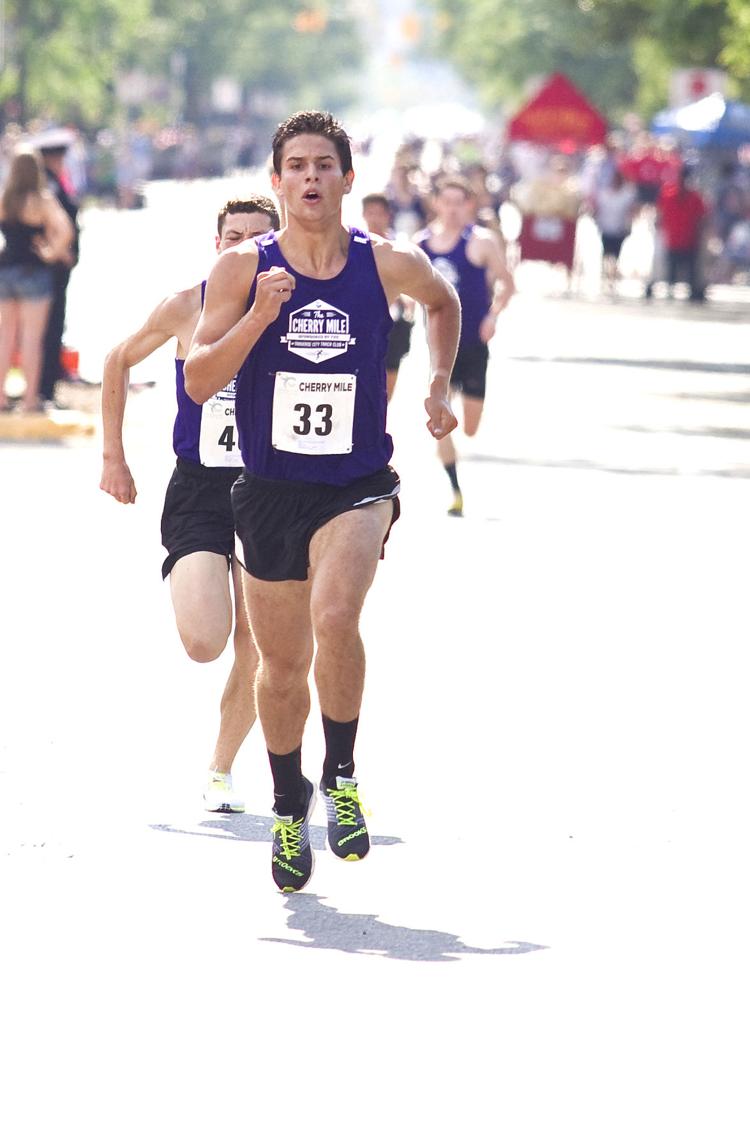 Kloss set a winning time of 4:14.59, and Walker came in at 4:15.86.
"I know of him, but I've never been able to race him before," Kloss said. "We're pretty far up north and we don't get to see some of the big shots from downstate like him.
"The first 400 he got a little behind me, but then tore me through the next two 400s. The last one, I don't know, it was all we could do."
Walker said Kloss simply hit a new speed he couldn't match over the last 400 meters.
"I led through the middle part of the race," Walker said. "The last quarter he caught me, and he switched gears. He had a little more speed than I did at the end. He was one of the guys I knew would be up front at the end."
A brief rain shower had temporarily cooled temperatures a bit, but by the time the boys race started, temperature and humidity felt like they were climbing again.
"The sun started battering, the legs got a little warm," Walker said. "It was hard to keep the hammer down.
Kloss said the downtown environment was even better than the state meets he's grown accustomed to performing at.
"I love the race, love the environment of being able to run and have all these people around and clapping," he said. "There is nothing like it, not even at the state meet."
Kloss and Walker planned to do a three-mile training run together after the race.
Men's and Women's Open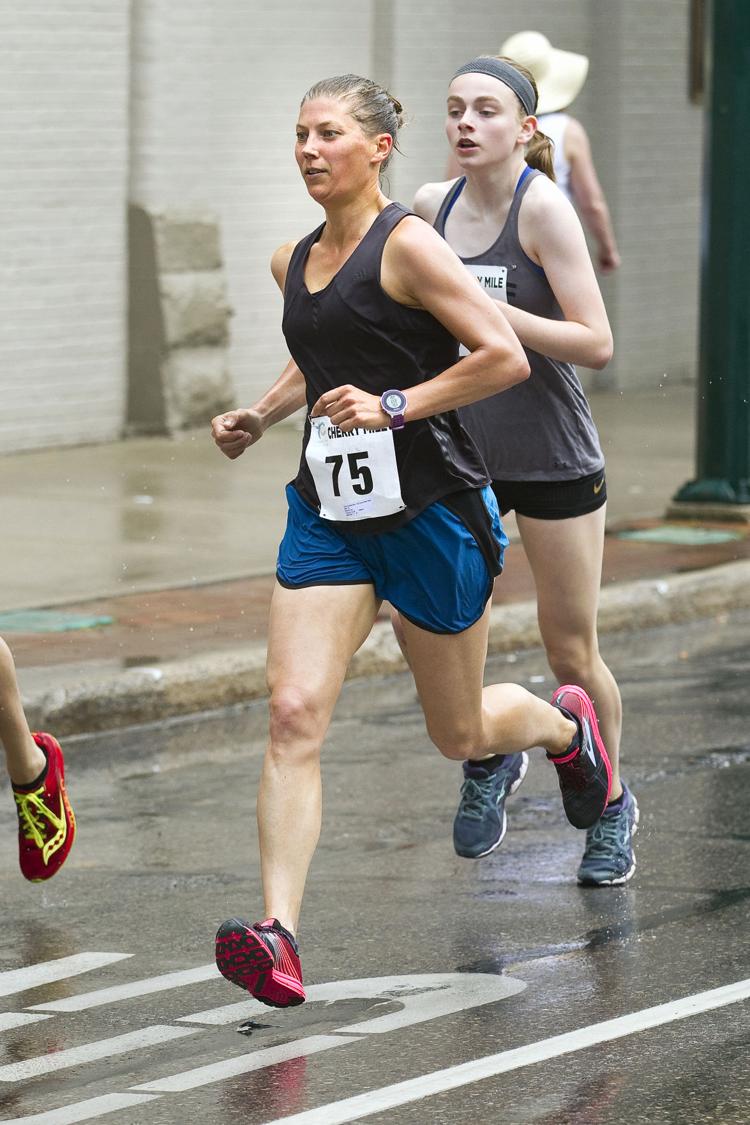 Phillip Stead won the combined open race with a time of 4:30.54, and Traverse City's Michelle Post finished with the top women's time in 5:06.13.
Lake Leelanau's Matthew Nester (4:42.44) was second, Kalamazoo's Rocque Lefaive (4:48.28) third.
Addison Swanson (Williamsburg) was second among females (5:19.94), and TC's Brittany McGuire (6:18.65) was third.