TRAVERSE CITY — The flood of questions rushed toward Amy Drake as soon as Doug Baumann unexpectedly resigned as Traverse City West's girls basketball coach.
Everyone with a stake in the program wanted to know if Drake, a three-year assistant under Baumann, would assume control of a program that has been on the rise.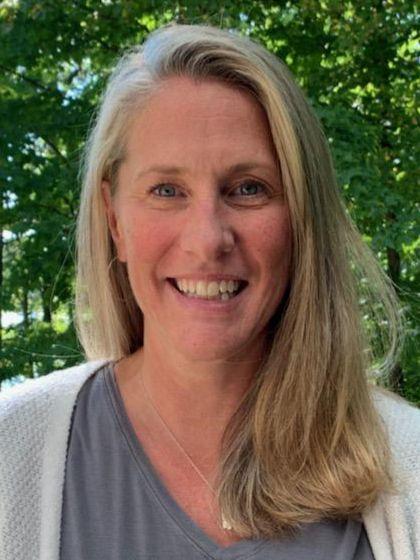 "I said no, and no, and no again," Drake said. "And I seriously wasn't lying, I had no intentions of taking over the program."
Then her former coach and local coaching legend Larry Glass passed away.
Drake, a 1990 Leland graduate, played for Glass in her high school days and developed a close relationship with the Glass family after her own father died when she was very young.
Drake called Glass "a second dad" and teacher of life lessons, all beyond everything she learned from the three-time state championship coach on the court.
When Drake attended his memorial service in August she was astounded. She knew how much Glass meant to her, but she had temporarily lost sight of all he meant to so many.
That realization helped change Drake's entire outlook on whether to become TC West's head girls basketball coach, which she was introduced as in West's athletic commons area Wednesday.
Now she plans to do her best to impact people — in basketball and in life — the way coach Glass did.
"I don't know if that's possible," Drake said, "but a lot of things that I'll do, or things I learned are from him."
West athletic Jason Carmien lauded Drake's basketball IQ and playing experience and has watched how she conducts herself on the bench.
He believes Drake can be the coach to return the Titans girls basketball program back to the levels it sustained back in the days of Patti Tibaldi.
"She's unflappable," Carmien said. "She's very steady in moments during games that I've seen on the bench and just in talking to her. This program has been through quite a bit, and she's been a steadying force."
No debate there.
Drake is West's sixth varsity girls basketball coach since 2011 — Tibaldi, David Ginsberg, Rebecca McKee, Mike Wilde and Baumann, who took over after Wilde died during the 2017-18 season.
One of the focal points of Carmien's coaching search was finding an individual who could provide families and players with stability. Baumann did some good work — including a 13-win season last year that totaled more victories than the previous three years combined — Carmien believes Drake can build upon that.
"Having multiple coaches in the last couple years, it hasn't been easy," Drake said. "I'm hoping since I have been around, there'll be that little bit of consistency, where it won't be a complete turnover, for some of them, but I think anytime you have adversity, it sets you up to be stronger and deal better with new situations."
Drake has already immersed herself in basketball and begun envisioning a fully integrated West basketball program. She has discussed offseason conditioning plans and started developing her middle school basketball vision, Carmien said.
She has also started outlining her practice plans for a season still months away.
Titan fans can expect some of the same concepts and philosophies they've seen the lastv couple seasons, but Drake did say she hoped to run more full-court defensive pressure and work on establishing mismatches on offense.
"We have guards, we have posts, but there's no reason our guards can't play in the post." Drake said. "You're going to have different matchups, and we're going to try to play off those matchups. I would like to prepare them all to play a lot of different situations and a lot of different positions."
Drake said she is excited to lead a basketball program after so many years around hockey. Three of her four children picked up skates and a stick, including daughter Delaney, who plays at the University of Wisconsin, while the other chose gymnastics. Her husband, Dallas, won a Stanley Cup with the Detroit Red Wings.
"I finally had to say I'm going to go coach someone else's kids," Drake said.