TRAVERSE CITY — One season, one team, one championship.
The Traverse City Pit Spitters capped off their inaugural campaign in dramatic fashion, beating the Eau Claire Express 3-2 with their second walk-off victory in four games of the Northwoods League's playoffs.
The Pit Spitters may even have a new superstition evolve from that ninth frame in Friday's Summer Collegiate World Series at Pit Spitters Park in Traverse City in front of 4,636 fans.
Known for their obsession with gummy bears — especially the red ones, for the team's main color — manager Josh Rebandt changed things up a little in the ninth after the Traverse City offense struggled to get much going in eight innings.
"I don't know about in the ninth inning, but they were definitely there all game," Rebandt said. "I was munching on them and we weren't scoring. I went to bubble gum and we scored. It is what it is."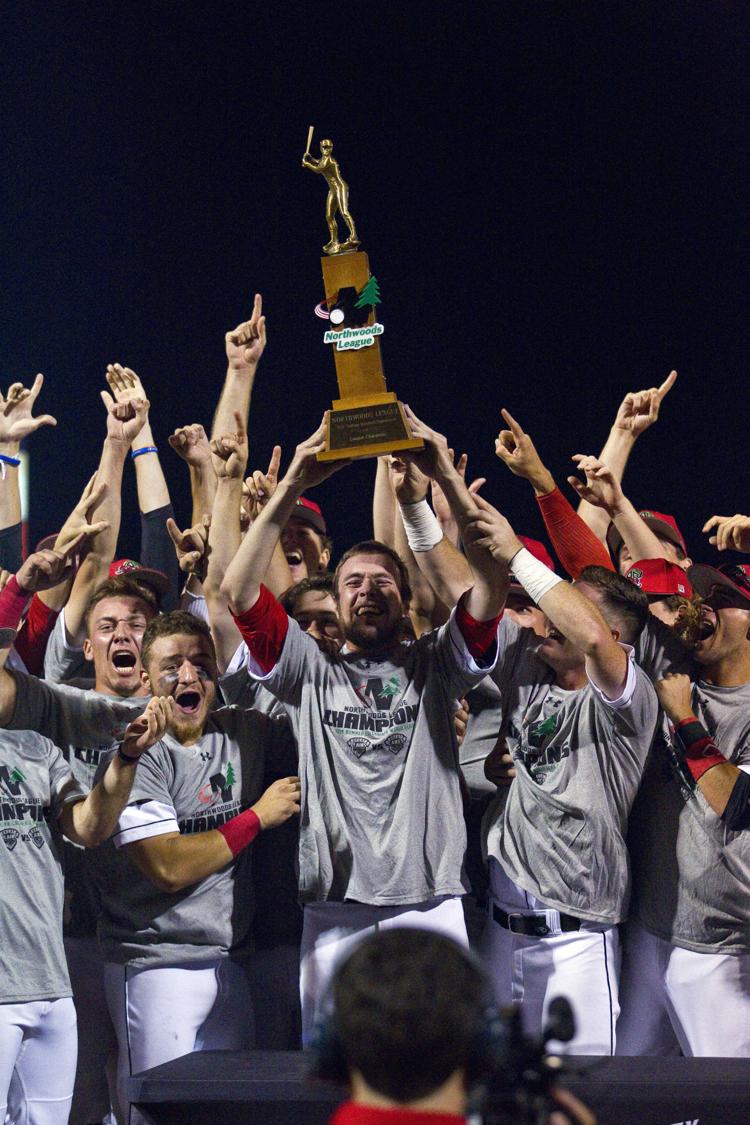 The ninth certainly burst the Express' bubble.
Eau Claire's David LaManna, who moved from catcher to third base in a bevy of position switches to get shortstop Brandon Dieter in to pitch with none out and two on in the ninth inning and Traverse City trailing 2-1, committed two errors in the ninth that helped the Pit Spitters rally.
Short-handed because 12 pitchers had to leave the team to return to college, Eau Claire tossed Dieter out there in a crucial position in the ninth. He had pitched in two regular-season games, with one save and without giving up a run and striking out five in three innings.
Nick Powell and Adam Proctor led off the ninth inning with walks, the fourth time the Spitters had put the first two runners on base. That led to Brad Rindfleisch giving way to Dieter.
No. 9 hitter Riley Bertram laid down a bunt up the third-base line and LaManna charged and bare-handed the grounder, but his throw hit Bertram in the back, allowing Powell to score.
"He had confidence in me and I was fortunate enough to help the team out in that scenario," Bertram said of Rebandt. "It was great to see Powell and Proctor grind out two at-bats to start the inning off."
Hudson Byorick walked the bases loaded, Mario Camilletti flew out to left field and Michael Slaten struck out, bringing up Andrew Morrow with two out.
Andrew Morrow again bunted at LaManna, which he fielded cleanly, but skipped his throw to first, allowing Proctor to bring across the championship run.
Reliever Kevin Hahn came on after three innings and took Traverse City the rest of the way in his longest outing of the summer. He pitched six innings without allowing a run, scattering six hits and striking out a half dozen.
"Today is my last game, possibly," Hahn said. "Coach Reebs said he wanted me with the ball and to leave it all out there. ... It was a Hell of a ride, excuse me, a heckuva ride and I'm happy to be able to win with this team. It's been a blast all summer."
Hahn struck out the side in the seventh, pumping his fist after the second and third.
"I like to pitch with my emotion," said Hahn, who added that he hopes to catch on with an independent league team. "I wear it on my sleeves. It can hurt me sometimes, but it helped me tonight."
Morrow drove in a fifth-inning run with a sacrifice fly to score Bertram, who won the Summer Collegiate World Series after his Michigan Wolverines came up one win short of claiming the College World Series.
Proctor gunned out Laspina at second to end the Express fourth. He also threw a bullet to first to get Zach Gilles on a two-out, bases-loaded squeeze bunt in the sixth inning.
The Spitters turned a bizarre 5-4-3 double play to end the fifth. The first-base umpire originally ruled the runner at first safe, and was overruled by the second-base umpire in a move that took an Eau Claire run off the board.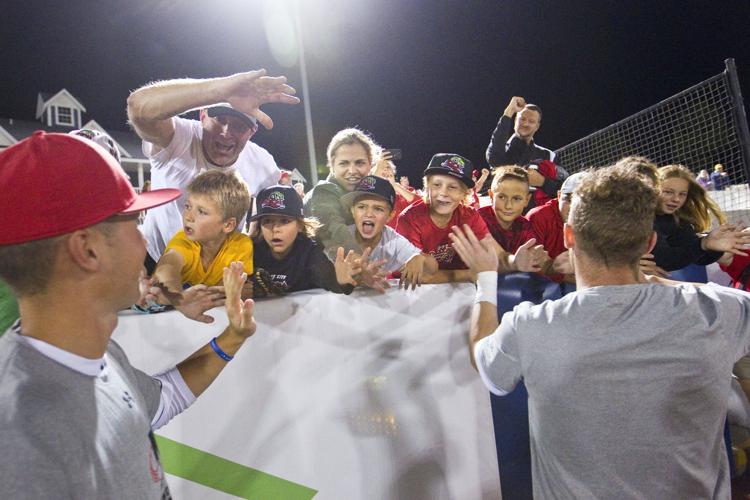 "This is a tremendous signal of what we've been trying to do all year," Pit Spitters CEO Joe Chamberlin said. "We've really been trying to bring baseball back, bring the fun back. And there's no better way to finish it off than with a championship."
The Pit Spitters won 44 of their last 51 games after a 12-13 start to the season.
"When we got Josh lined up to be the manager and gave him the keys to the car, I don't think we knew we were getting this kind of car," Chamberlin said. "This is awesome. Pun intended, this is the cherry on top of the inaugural season."