BOYNE CITY — Nick Aown is scheduled to play center for Petoskey on Jan. 18.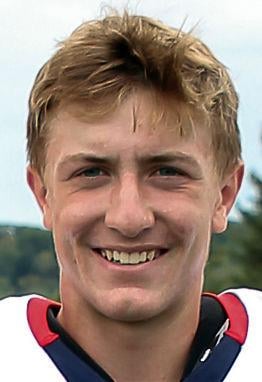 That hockey game starts at 2 p.m. against Mount Pleasant at the Northmen's arena. A three-hour drive away in Lansing, a football awards banquet is slated to begin at 4:30 p.m.
Aown plans to make both.
"That's pretty typical Nick," Boyne City football coach Dave Suttle said. "He's all over the place, all the time."
Aown's ability to juggle multiple tasks is nothing new.
After all, he's receiving an award at the banquet in Lansing for exactly that.
The National Football Foundation's Scholar-Athlete Award goes to only two football players in the entire state of Michigan (the other is Warren DeLaSalle's Justin Desmet). Recipients must be at least honorable mention all-state or better on the football field, as well as academic all-state in the classroom in order to qualify.
Aown hits both, leading Boyne City in tackles from his middle linebacker spot and posting a 4.046 grade-point average to go along with 1540 SAT and 35 ACT scores.
"I feel it's really cool to be honored for academics as well as athletics," said Aown, who also plays baseball for Boyne City and hockey for Petoskey. "To a lot, athletics is the end all be all, but academics is also very important to me."
Oregon quarterback Justin Herbert won the NCAA's Campbell Award, which the NFF said in its letter to Aown is the collegiate version of his honor.
The NFF and Michigan High School Football Coaches Association put on the banquet at the Lansing Center and Lansing Capitol Radisson Hotel to present the state's 24 Dream Team players, the Michigan high school coach of the year, the two Scholar-Athlete winners, the Distinguished American award and Michigan's three college Scholar-Athlete winners from Divisions 1, 2 and 3. Aown's family, Suttle and three other varsity football coaches are making the trip.
Aown, who has been accepted to the U.S. Naval Academy, made the MHSFCA's 23-player academic all-state Dream Team, as well as the Record-Eagle football Dream Team. Through 12 games, he's Petoskey's leading scorer in hockey with 34 points on 13 goals and 21 assists, and also earned Record-Eagle Dream Team status in baseball as a catcher and pitcher last season for Boyne City.
Aown quickly learned to balance academics and athletics when he played AAA Midget hockey for Fox Motors in Grand Rapids as a sophomore and junior, doing homework in the car on the way to practice and back three times a week.
Suttle, who just finished his first year as the Ramblers head football coach, looked into the award after the season. He discovered to be eligible, a player had to not only be a good student, but also a stand-out player.
"This is for both," Suttle said. "You have to be high quality on both ends. That's pretty cool."