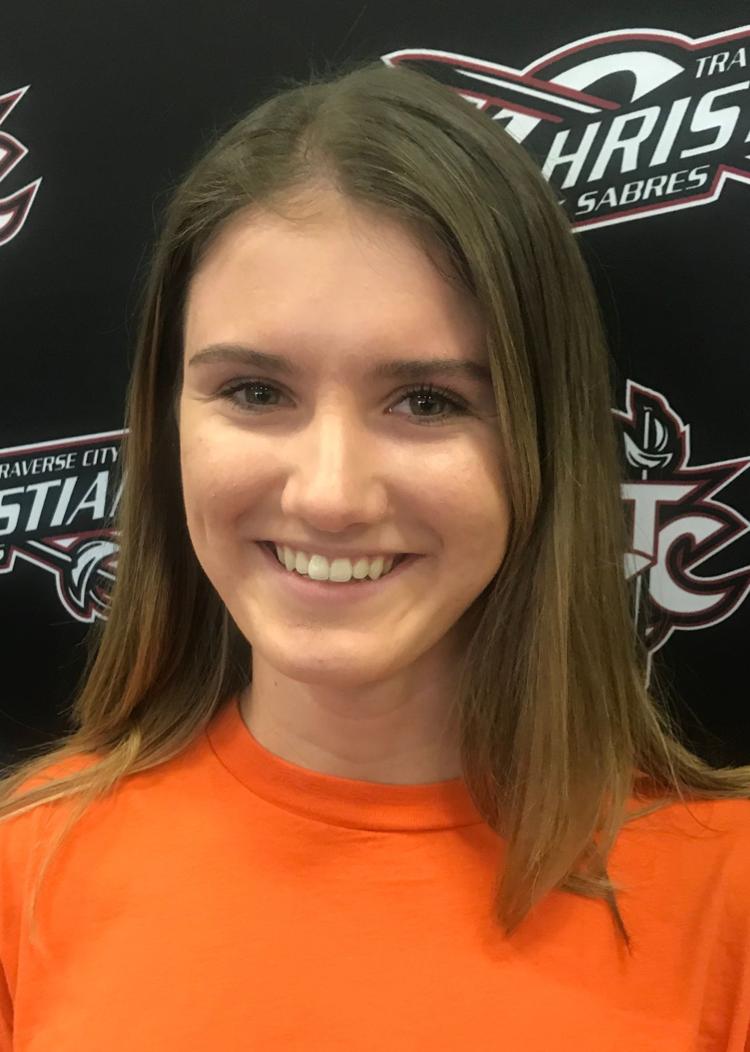 TRAVERSE CITY — Sydney Broderick is ready for the big city.
When looking for a college, the Traverse City Christian senior only had a couple of things in mind.
She wanted a Christian school that was in or near a big city.
The latter being the draw that led her to sign with Wheaton College Wednesday to play softball in front of dozens of friends, family and classmates.
The school is located in Wheaton, Illinois — a 40-minute drive from bustling downtown Chicago — and offered a sense of community and devotion to academic excellence that allured Sydney after two visits to its 160-year-old campus.
"I was searching for Christian schools throughout the country and Wheaton stood out when I visited and met the coach," she said. "I loved her and I love the school community plus I really wanted a school that was by or in a big city and Wheaton is near Chicago, which is great."
Tom Broderick, her father and varsity coach, said they noticed she might be able to play in college when she was a sophomore and they enrolled her in Next College Student Athlete (NCSA). After several camps and visits to other colleges, Sydney fell in love with the academic intensity offered by Wheaton.
"The school is very academically known," she said. "It is kind of known as the 'Christian Harvard.' They have really high standard in their academics, which I appreciate."
Sydney has a near-perfect grade-point average at TC Christian and hopes to translate that into a communications degree where she can mix psychology and marketing into one job.
The Sabres pitcher expects to make the transition to a utility player, but hopes to find a spot in the Thunder's outfield come next season. The senior said she will bring speed with her to Wheaton, but it's more about what she will be getting out of her experience there.
Tom has no doubts she will get the most of her time with the Thunder.
"Her work ethic has been incredible from a coach's perspective," he said. "She's teachable and so coachable and has a desire to excel."
Broderick finished her junior season seventh in slugging percentage among area players at .640, hitting .487 with 37 hits, six doubles, four triples and a home run, striking out only five times all season. She scored 31 runs and drove in 13, stealing 18 bases.
Sydney joined teammate Abbey Brower in signing Wednesday, making for two Sabres that are college softball bound.
The pair were honored at a special ceremony that included the entire school. Now, she can focus on what lies ahead.
"It definitely takes a lot of pressure off," she said. "It'll just be fun knowing where I am going to go because it's just kind of practice for when I am there in the fall."