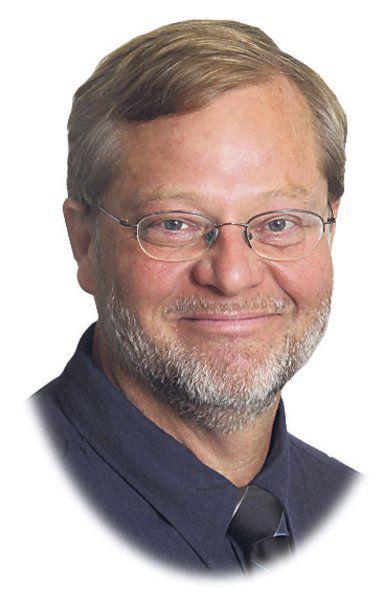 This year's National Cherry Festival blasted me into both the past and the future.
Both our sons drove up from their homes downstate and spent several days in Traverse City.
My wife and I took in more festival events than we have in years. We reveled in the company of our offspring. Their presence helped me see the festival in a fresh light.
This marks the 30th year we've lived in Traverse City, the 30th year I've worked downtown. Every summer, I make it a point to stroll through the core of festival activity — Open Space Park, the midway and Front Street — to absorb the general ambiance. So I have 30 cherry festivals under my belt. And I'm not talking about just the festival food, although some of that certainly has contributed to my belt problem.
Thirty orders of Gibby's Fries are too many. Thirty days at the beach are not enough.
Thirty consecutive cherry festivals had begun to make me feel like I'd been there, done that.
My personal level of cherry festival enthusiasm admittedly grew slightly tarnished the last few summers. Early July is a busy time both in the newsroom and at home. Festival traffic and general lethargy kept me lazily stuck mostly at home through the last couple of cherry festivals.
Enthusiasm roared back this summer.
I saw my sons through peripheral vision while watching the air show through their eyes. I walked up and down Front Street, people-watching through with at least a hint of their youthful vision.
I sampled a bit of a shared funnel cake while trying to imagine what it tasted like to their 20-something taste buds.
I was surprised at the car show when they both were fascinated with some vehicles I had little interest in, and heartened when they gravitated toward a couple of my personal favorites.
I listened to their friendly banter, their chuckles. A grin grew on my own face as I watched them smile. Spending time with our grown offspring helped me feel younger. Sharing the cherry festival experience opened my jaded eyes.
Thirty years of tarnish was polished away. The National Cherry Festival suddenly became a fresh, shiny experience.
I found myself enjoying every aspect of the chaos and crowds: The people watching, the fashion choices, the concentration of kids arrow-focused on the next midway attraction, the chorus of whoops as a carnival ride reached bottom and then swooped back up, the scents of barbecue and cotton candy, the heat of the pavement seeping up through shoe soles, the rays of the sun forming a sheen of perspiration on everyone's faces.
Together, all those sensations and observations dredged up memories of past cherry festivals — and long-forgotten festivals large and small strung out through my lifetime.
The scattered scraps of memories brought another smile to my face.
They reminded me what festivals are all about: Celebrating our communal existence on planet Earth.
Sure, festivals generate income for a wide variety of entrepreneurs and workers.
But those folks collectively also provide a great service to us throngs of festival-goers. They help provide the shared experiences that, bundled together, create a festival.
All those workers and volunteers help create the sights, sounds, smells and experiences that form lifelong memories.
My brother-in-law offered me a tidbit of wisdom last week while we were sitting near a campfire in a rustic Benzie County campground.
He's a couple of years older than me, so I respect any smarts he's willing to share.
He told me about a revelation he had a few years ago: He realized he was not going to change the world. So he consciously decided to devote much of his remaining effort to building a large store of happy memories. I think that's a pretty cool philosophy.
Spending time with my family during National Cherry Festival week added considerably to my store of happy memories.
The experience whets my appetite for building more happy memories in the future.
I'm looking forward to future National Cherry Festivals with renewed enthusiasm.