TRAVERSE CITY — Charming cottage in Slabtown!
Just as the Craigslist ad said, it was an adorable two-bedroom/one-bath home located near downtown Traverse City.
Was it walking distance to beaches, parks, local eateries and shops just as the posting promised? Oh yeah. Did it have a private yard with access through sliding doors? Indeed it did. How about a large master bedroom and a second bedroom cozy enough to be an in-home office space? Yup.
Was it a scam? You bet your bottom dollar it was.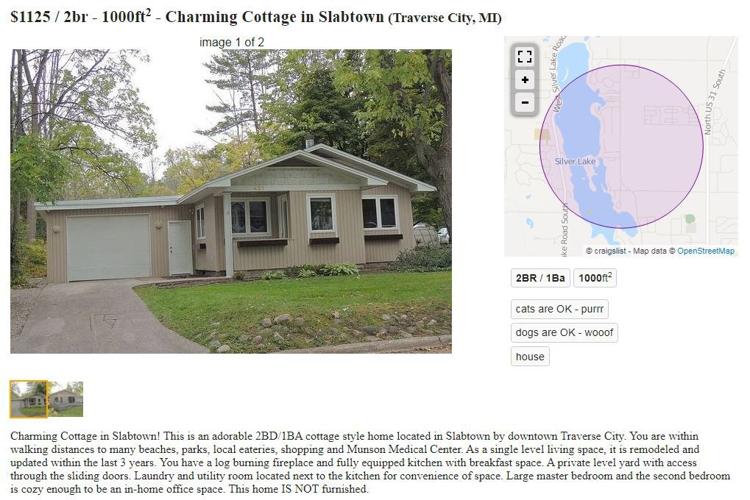 My head knew it was a scam.
But my heart ... well, my heart wanted to believe it was real.
My search for a house to rent in Traverse City led me to postings on Craigslist — an unwise decision, no doubt.
A 2016 study on Craigslist rental scams from New York University analyzed more than 2 million rental listings on the site during a five-month period. Researchers found that 53 percent of rental scams are missed entirely and those posts often remain on the site for at least 20 hours before they are removed.
That also does not deter or stop the scammer from posting the "rental" again — over and over, day after day.
Scammers toss their lure into the rental waters in the hopes of snagging a big, naive and desperate fish or two that will fork over first month's rent, security deposit, cleaning fee and any other fee without question.
I was desperate.
Just two months into the one-year lease on my current abode, I realized that the house must either be the epicenter and physical embodiment of Murphy's Law — the theory of anything that can go wrong will go wrong — or a real-life version of the house from Poltergeist.
Fortunately, my robust skepticism overcame the desperation and eliminated any modicum of naivete I had left.
But I emailed anyway. When I didn't get a response, I emailed again.
"Hello Brendan. I appreciate your response with your interest in renting from me. The house is still available with rent of $1,125, security deposit of $1,125 and pet deposit of $200," the email read.
Then came that over-the-top story from the person who identified herself as Debra.
Apparently "Debra" survived a car crash and broke both of her legs three months ago. She was now relegated to a wheelchair. She then told me she moved to Texas with her "husband," Joseph, and is receiving more care and treatment for her injuries. "Joseph" told her to find a good tenant to take care of their home at 421 N. Madison while they were in Texas.
As far as red flags go, a prospective landlord being out of state is a deep shade of crimson.
The second red flag shot up on the "tenant pre-screening questionnaire."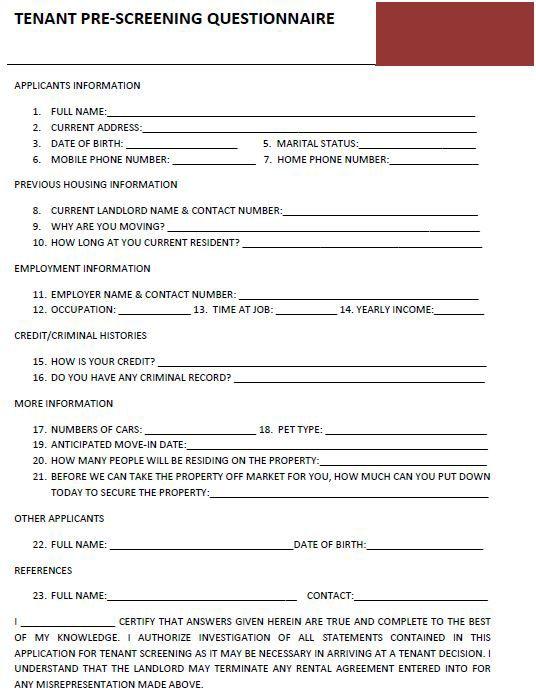 Question 21: Before we can take the property off market for you, how much can you put down today to secure the property?
That made it clear. This was the scam, and I had a story.
I knew I had to start digging — both into this scam and the overwhelming presence of other scams just like it.
I went from the fish to the angler. I wanted to keep this guy on the hook. That was the only way I'd get to the bottom of how these scammers work and what lengths they will go to bilk thousands of dollars out of innocent people just looking for a place to call home.
So I sent back the questionnaire, and the next day I got a text from Joseph Lockwood telling me my application looked good and they wanted to "proceed with other rental formalities." He wanted to know how soon we could move in, how long of a lease we wanted to sign, if our dogs were well behaved.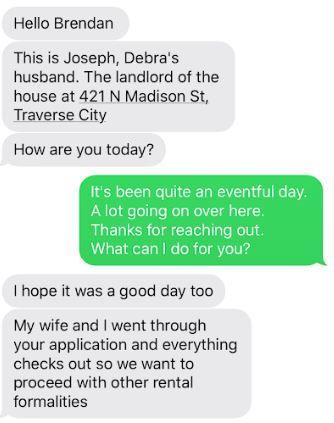 He told me just how important a good landlord-tenant relationship was and sent me the lease agreement, asked me sign it and send it back.
But I hadn't even seen the inside of the house yet.
When I asked for that opportunity, Joseph said the keys would be mailed to me after we sign the agreement and send payment. He assured me the pictures online matched exactly how the house looked.
"You have nothing to worry about," he texted.
Well, I was sure I had plenty to worry about.
My first move was to drive by the house. I pulled up, hopped out and walked to the front door.
No cars in the driveway. OK.
I looked in the window.
No furniture.
Wait, was this legit?
I trotted back down the steps and saw the next-door neighbor outside.
"Hey," I said. "What do you know about ..."
I couldn't even finish my question before he said, "It's a scam."
Not only did Andy Bowerman live next door to 421 N. Madison, he owned 421 N. Madison — and I'm pretty sure he wasn't Joseph Lockwood or Debra Lockwood. He certainly did not live in Texas.
Now it was really time to get to work.
Tracking the phone number was easy. Reverse White Pages led me to a man from Howell, Michigan. Bit of a spoiler alert here, the guy I was communicating with was not that man — but I didn't know that at the time.
A parcel search on the history of owners provided a surprise. The last owner listed was Debra Lockwood. This dude did his homework.
If Debra Lockwood was real, maybe Joseph was too.
The top result for a Google search of "Lockwood Traverse City" gave me a Ted Lockwood — a real estate agent for RE/MAX Bayshore. So I gave Ted a ring at his office.
"Hi, Ted. This is Brendan Quealy with the Traverse City Record-Eagle. This is going to be a weird question, but are you related to a Joseph Lockwood or a Debra Lockwood?"
"A Joseph Lockwood? No."
"And how about a Debra Lockwood?"
"She's my wife. She's standing right next to me."
"So she's not in Texas with two broken legs, I assume?"
I ran down the entire scam for Ted. Told him about the emails, the over-the-top story, the texts, the phone number traced to some guy in Howell. All of it.
"Geez-oh-Pete," Lockwood said, laughing in both amazement and incredulity.
Lockwood used to own 421 N. Madison — his father lived there — and Debra's name had been on the deed since the 1990s. Although they rented the house for $1,400 per month after Lockwood's father died four years ago, they just closed the deal to sell it to Bowerman in March.
Lockwood said scams relating to that house have "come and gone over the years."
"I can recall a couple of times when people would find out eventually that we were really the owner and that the place wasn't for rent," he said. "Unfortunately, it's a total buyer-beware deal out there."
Of course, I wanted to speak with the real Debra Lockwood.
"Debbie! Some guy with the Record-Eagle wants to talk to you."
Debra had listened in on my conversation with her husband.
"So I'm a scammer and I didn't even know it, huh?"
She couldn't help but chuckle and utter a surprised "Are you serious?"
Debra called the scammer's actions criminal as she stumbled over her words, completely flabbergasted by what she was hearing.
"People never cease to amaze me," she said.
The next step was getting Joseph on the phone.
A simple text told him I just needed to ask a few questions about the lease before I signed it, sent it over and then wired him the $2,450.
Dangling that nearly $2,500 worm in front of his face was enough for him to take the bait. I'd finally get to the bottom of how this guy was pulling off this scam.
We'd talk tomorrow evening at 6 p.m. — 5 p.m. his time.
But before that, I wanted to head back to 421 N. Madison and see if I could interview the owner who lived next door.
I was pleasantly surprised to see a van parked in the driveway of 421 N. Madison when I got there. That is when I met Joy and Wally Green — the new tenants — for the first time. They got the whole story from me, too.
They said they'd talk to me later, once they cleared it with Bowerman. I asked if they would pass along my business card to Bowerman and have him call me, if possible. They agreed.
By the time I left, my call with Joseph was a couple hours away.
Six p.m. rolled around. No call. I texted him at 6:15, said I'd call at 6:30 if I didn't hear from him.
Fifteen minutes went by, so I dialed the number I had. Several rings and right to a Google voicemail.
My hope of finally getting some answers to my gnawing questions was fading fast. Until my phone rang at 7:07 p.m.
I grabbed my voice recorder, clicked it on, answered the phone and put it on speaker.
"Hey, Joseph. Good to hear from you. How're you doing?"
"I'm doing fine, Brendan. How are you?"
The voice on the end of the line was not Joseph Lockwood and it wasn't some guy from Howell.
The voice had a thick accent.
This scam was international, or at least that was my best guess then and now.
I was thrown off my guard but recovered quickly. We discussed the lease, he answered my questions. I asked him why the phone was registered to someone in Howell. He told me that guy was his cousin and he gave him his old phone.
He had an answer for everything, even if those answers were difficult to believe. It was clear this was not his first rodeo.
I had the money ready to go and told him I could send it right now.
"Does Chase Quickpay work? I just need an email address to send you the money?"
"Yes, that will work. I'll text you the email you can use, right now?"
We hung up with the "agreement" in place.
I eagerly waited the email address, but I had no idea it would pay off as gloriously as it did.
He said it was his wife's email.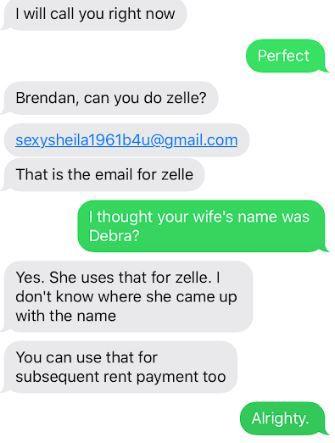 I threw my head back, roaring with laughter.
I'd dug and dug, and at the bottom was Sexy Sheila.
Of course I never sent the money, and of course he texted me the next day asking where it was.
"Sorry, my man. But I know it's a scam. I've known for a while."
"A scam? What are you talking about? We took the house off the market for you last night."
I ran down exactly how I'd found out. I told him about speaking with Bowerman, with the Greens, with the real Debra Lockwood. The jig was up.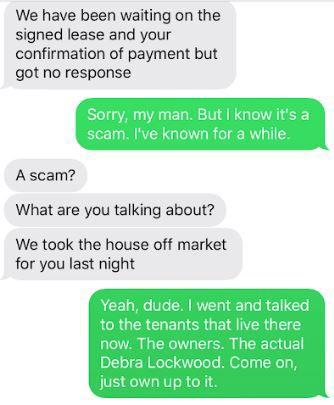 That was the end of my interaction with my good friend Joseph Lockwood.
But he went right back to fishing for others. I saw the same post for that charming cottage up on Craigslist the next day and the days that followed.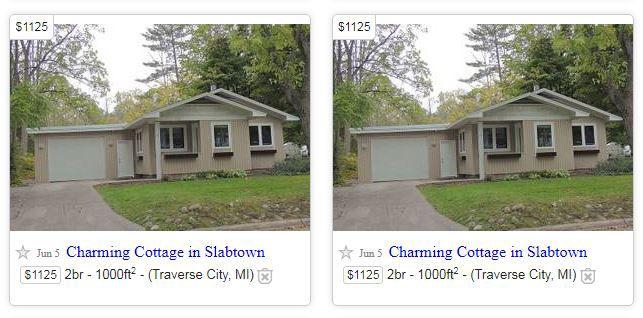 I flagged every one of them and put a call out on Craigslist to speak with other people who've dealt with scammers on the site. I got about a dozen emails within two days, and more continue to roll in weeks later.
I finally chatted with Joy and Wally Green on Thursday, and I told them the rest of the story.
They told me about the other unfortunate and scammed souls who've come around to look at their house. They also told me about the four times they were nearly scammed before they found 421 N. Madison.
"They're predators," Joy said. "That's violating somebody's rights. It just seems very wrong."
We sat on the backyard deck, chatting for about 15 minutes before I headed out.
My heart broke a little more as I gazed upon the vast stretch of nature behind the house — a wooden archway at the edge of the yard that led into a lush field and farther back into a line of beautiful, tall trees.
And I remembered.
I remembered just how much I wanted to live here the first time I saw the ad.