TRAVERSE CITY — A woman found in a Leelanau County ravine was bludgeoned, stabbed and strangled — and the man police believe is responsible has been charged.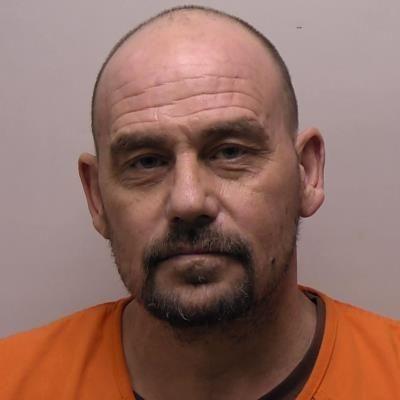 Frank Supal, 50, of Maple City, stood before 86th District Court Judge Robert Cooney on Friday for a late afternoon arraignment on a charge of open murder.
Cooney denied Supal — who requested a court-appointed attorney — bond in the case.
The 62-year-old woman, a Traverse City resident, was identified Friday as Wanda Mae Lyons. She was killed sometime between Tuesday evening and late Wednesday morning, Traverse City Police Department Capt. Jim Bussell said Friday morning.
A passerby found Lyons' body around 11:30 a.m. Wednesday after spotting drag marks off Kasson Center Road near Maple City in Leelanau County.
He opted to investigate, following the trail about 50 yards off the shoulder to a ravine, Leelanau Sheriff Mike Borkovich said.
He discovered the gruesome scene at the bottom and called police.
"She was dragged over a ridge, then down into a ravine," Borkovich said, noting the ridge wasn't visible from the road. "Not something you'd be comfortable walking back up in the snow. It's work getting up that hill in the snow."
Lyons had suffered blunt-force trauma, stabbing, fractures to the neck and strangulation with possible smothering, Bussell said, citing a pathologist's report.
Leelanau investigators and Michigan State Police crime lab personnel swarmed the scene, logging evidence through nightfall.
A break came around 5 p.m. Wednesday when Lyons' husband called 911 to report her missing, according to Traverse City police Capt. Keith Gillis.
The connection was made and soon TCPD joined the on-scene officers.
Others went to the Terrace Beach Motel room where Bussell said the couple had been living for 2-3 months.
Lyons' husband told police he'd left in a huff after a Tuesday evening argument, and upon returning Wednesday discovered his wife, a Chicago native, had disappeared.
She was last heard from around 8 p.m. Tuesday in a phone call to her husband, police said.
Investigators believe Lyons was slain inside the motel, Bussell said, and then dumped in Leelanau County.
He suspects there's a connection between the sites, but declined to elaborate on what that might be.
"Certainly, we don't think it was random," Bussell said.
Bussell also declined to share any further information on Supal, who he said was arrested early Thursday morning in relation to the case.
Gillis said earlier this week that Lyons and Supal knew each other, but investigators declined to discuss the nature of the relationship.
Grand Traverse County Chief Assistant Prosecuting Attorney Kyle Attwood told the Record-Eagle Friday that Supal lived off and on at Terrace Beach, in close proximity to Lyons and her husband.
Investigations have been a team effort — Leelanau and Grand Traverse sheriff's departments and MSP have assisted in collecting and processing evidence.
The Grand Traverse sheriff's department dive team on Friday morning searched the waters of West Grand Traverse Bay for other potential evidence.
"It's been all hands on deck," Bussell said. "We've had all our resources in and being utilized over the past couple of days."
For now, investigators are still logging evidence from the motel room, Bussell said, and interviewing witnesses.
He declined to discuss any specifics.
"We still have a lot of work to do in this case," Bussell said. "We have a lot of investigating to do, a lot of evidence to process, and there may be other evidence to collect."
Anyone with information on the crime should call the TCPD at 231-995-5012 or email TCPDtips@traversecitymi.gov.
Supal next appears in court Jan. 3 for a preliminary exam.
Steven Kane, Supal's attorney for the arraignment, said Supal is entitled to counsel.
Kane added he doesn't like the discussion of facts of the case before adjudication — those should be left for the jury to weigh, he said.