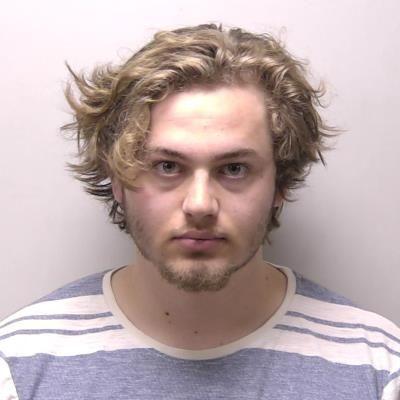 TRAVERSE CITY — A five-week investigation came to an end Wednesday morning when Joshua Todd Vandehoef surrendered himself to police to be charged in the May 29 slaying of a man near Boardman Lake.
A court narrative from Traverse City Police states Vandehoef, 18, sent Snapchats to a friend in the two days after Chisholm was killed, saying "he had killed 'a homeless man' by slitting his throat" and then "cleaned the blood off of himself and his clothes."
"That was one of the first things that led us to him," said Traverse City Police Capt. Jim Bussell.
Vandehoef is in custody at the Grand Traverse Jail, where he is now being held as a suspect in the death of James Chisholm.
An autopsy conducted last month determined Chisholm, 62, was killed by a slit throat. Walkers found Chisholm's body just off the Boardman Lake stretch of the TART Trail. He'd been camping nearby, police said.
The discovery mounted a search for his killer, which involved local and Michigan State Police, the FBI and, later, Sacramento law enforcement.
Police identified Vandehoef as a person of interest in early June, searching a local condominium and another address in Carmichael for any evidence of the crime, Bussell previously told the Record-Eagle.
Vandehoef, who has no prior record in 86th District Court, has family in both Traverse City and Carmichael, according to Traverse City Police. The surrender was brokered by his attorney Jesse Williams and the Grand Traverse County prosecutor's office.
He stood before Magistrate Tammi Rodgers to plead not guilty and be denied bond.
Police initially requested extradition of Vandehoef — of Carmichael, California, but with local ties — but on Tuesday evening received word from Sacramento law enforcement that he'd returned to Michigan.
"It's been a long five weeks, and it was very fulfilling this morning to be able to make the phone call to (Chisholm's) family members — give them the opportunity to have closure," said Det. Evan Warsecke, who led the investigation.
Warsecke said police believe the suspect and victim knew each other.
"I would characterize them as acquaintances," Bussell said.
Vandehoef is accused of staying with his mother — less than a mile from the crime scene — until May 31, according to court records.
That complaint also noted a GPS return on the defendant's phone places him, around 1 a.m. that morning, within meters of the site where Chisholm's body was found. Police are still waiting on test results for DNA evidence recovered from the scene.
Williams expressed frustration that the arraignment wasn't held before a judge, and also requested a delay for the case's next action.
His push for bond release for Vandehoef was denied — cited flight risk and the crime's brutality.
Chief Assistant Prosecutor Kyle Attwood agreed.
"The allegation here is that after the homicide the defendant almost immediately went to California — got on a plane earlier than he had anticipated and went to California," Attwood said.
Chisholm's siblings watched silently from a courtroom bench, save for a soft "thank you" following 's decision.
"It is a step toward closure — but in any death, in any situation in life, you never really find closure," said Chisholm's sister, Carole Gilbert.
"It was unnecessary — our brother wouldn't hurt a fly," said the victim's other sister, Gail Chisholm. "He defended himself — his hands were all cut up."
"It was horrible, the way he died," Gilbert added.
Gilbert said her brother served more than 20 years in the Air Force and worked at NASA and as a professor before retiring.
She said Chisholm, who had no address listed in court records, spent his summers traveling nomadically throughout Michigan and other states, and has a more permanent home in Oregon.
"He liked to hear people's stories," she said.
Vandehoef next appears in court on Aug. 22 for a preliminary hearing before Judge Robert Cooney.
See updates at www.record-eagle.com.