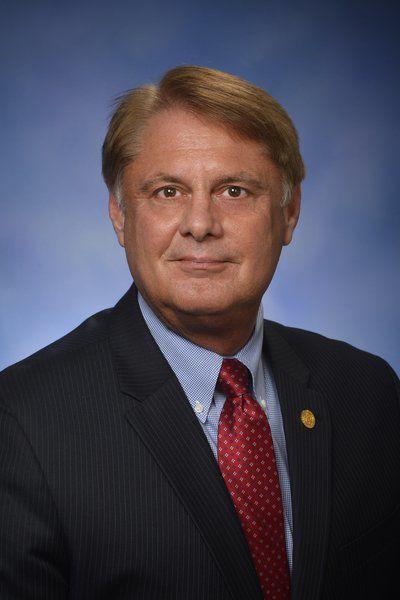 TRAVERSE CITY — State Rep. Larry Inman faces a grand jury indictment Wednesday as federal attorneys accuse him of offering a vote for sale in last year's appeal of the state's prevailing wage.
U.S. Attorney Andrew Birge announced the indictment in a press release. Jurors charged the 104th District Republican from Williamsburg with attempted extortion, bribery and lying to an FBI agent. He faces prison time — 10 years in prison and five years in prison, respectively — if convicted.
Inman is accused of sending text messages to members of the Michigan Regional Council of Carpenters and Millwrights in early June 2018, seeking money in exchange for his "no" vote on the 2018 effort to repeal the state's prevailing wage law, which sets wage and benefit rates paid to construction workers on state projects. The union publicly opposed the repeal.
He voted days later to instead approve the repeal and the state House followed suit, repealing the law by a 56 to 53 vote. But investigators claim text messages sent June 3 from Inman to members of the union suggest he offered to vote against the repeal, for the right price.
"We only have 12, people to block it. You said all 12 will get $30,000 each to help there campaigns. That did not happen," Inman wrote via text to an unidentified union representative, according to court records. "We will get a ton of pressure on this vote.
"I have heard most got $5,000, not $30,000. Its not worth losing assignments and staff for $5,000, in the end."
He sent another text message to a Lansing lobbyist the same day arguing that $5,000 worth of campaign contributions was not worth a vote he said would lead to loss of committee assignments.
"They will give you the check back," he wrote, according to court documents. "I would suggest maxing out on all 12, or at least doubling what you have given them Tuesday, asap, we never had this discussion."
Indictment documents show Inman spoke with an FBI investigator Aug. 1 about the communications, at least in part. In that meeting, Inman denied his communications with union officials and specifically denied soliciting $30,000.
A Michigan Regional Council of Carpenters and Millwrights official directed reporters to a written statement from Mike Jackson, executive secretary-treasurer.
"Our members deserve elected officials who vote on the merits of a bill, and how it will affect us as taxpayers and hardworking people," he wrote. "We're glad that Larry Inman is being brought to justice."
Inman's attorney, Christopher Cooke, said the longtime politician never intended to break any laws and claims federal attorneys took the messages in question out of context. He declined to elaborate, saying he didn't "want to go too in-depth into it."
Republican House Speaker Lee Chatfield called for Inman to resign and stripped Inman's committee assignments, directing the House Business Office to take control of his office Wednesday, ensuring services continue for people living in Inman's district, the Associated Press reported.
A spokesperson from Chatfield's office did not immediately return calls for comment.
House leadership's next move remains unclear. Legislators could conduct their own investigation and bring a motion to discharge Inman, according to Rich Brown, assistant clerk of the state House. He had not heard of any activity Wednesday afternoon.
Brown said Governor Gretchen Whitmer could call for a special election if he chose to resign.
But Inman does not appear to have plans to leave office.
"I am innocent of these charges. I have never compromised the integrity of my vote," he said in a written statement. "I have always represented my constituency honestly and legally. I intend on vigorously fighting these charges and defending my reputation."
Voters first elected Inman to the House of Representatives in 2014. His final term, according to term limits, ends in 2020.
He served on the Grand Traverse County Board of Commissioners for 22 years before moving to the state legislature. Inman is a retired vice president of Huntington National Bank — formerly Empire National Bank of Traverse City — and also served on the Northwest Regional Airport Commission, among other board seats, according to his Michigan House of Representatives' webpage.
State Rep. Triston Cole from the 105th District learned about the indictment through news reports.
"I am hoping to have a conversation with the Representative at some point to find out what happened," he said in an email.
The allegations disappoint Inman's local Republicans.
Grand Traverse County Republican Party Chairman John Roth called the claims a "betrayal" and something the Republican party will not tolerate.
"That's not why we sent him to Lansing," Roth said. "If it turns out these accusations are all true, he should step down."
Local Democrats agree that Inman should resign — immediately.
"If he does not we call on Speaker Lee Chatfield to begin immediate expulsion proceedings so the people of Grand Traverse County and northern Michigan have a voice in the Legislature they know they can trust, not someone who faces charges of trying to squeeze money in return for votes," said Grand Traverse Democratic Party Chair Chris Cracchiolo, in a written statement.
Inman next appears in U.S. Western District Court in Grand Rapids on May 23.
Associated Press contributed to this story.