TRAVERSE CITY — County officials agreed to pay $20,000 to the relatives of a woman who died by suicide after 19 days in Grand Traverse County's jail.
"They're certainly not happy — they are tired and they wanted to be done," said Jesse Williams, the attorney represents the family of 36-year-old Marilyn Palmer in settlement discussions with Grand Traverse County. "The county offered a pittance, really. Is that the value of a life?
"In my opinion, it's not anywhere near fair."
The Grand Traverse County Sheriff's department announced the settlement — which distributes about $3,000 to each of Palmer's children, $4,000 to funeral costs and $6,000 to Williams — Wednesday morning. A statement notes the "very low settlement amount is a reflection of the minimal, if any, liability the County faced."
The settlement will appear before a probate court judge in Gaylord to be finalized.
Palmer was 19 days into a sentence for a felony identity theft conviction when she hanged herself in a jail cell shower, according to investigation reports. The mother of three died on Feb. 28, 2018.
Frantic cellmates discovered her lifeless body.
The Sheriff's department statement refutes accusations and investigation findings from Traverse City Police that suggested Palmer was not provided prescribed medication.
Sheriff Tom Bensley and Undersheriff Mike Shea declined to discuss the statements further.
"Policies and Procedures dictating medication delivery, hourly cell checks, and observations were followed," the release reads. "Although the death of Ms. Palmer is difficult to deal with, it was not due to any action or inaction of the Sheriff's Office."
Williams was quick to fire back.
"If they are following their policies and procedures properly, then why did two people commit suicide in their jail in a six-month period? And weren't stopped? Why?" he said.
The police investigation reports revealed handwritten notes in which Palmer, of Gaylord, asked for her prescribed Trazodone. She submitted health service requests in the days before her death — the final one, which noted she'd "been out for several days," was sent just hours before she hanged herself. Investigation reports show a nurse who supplied her medication that afternoon was the last to see her alive.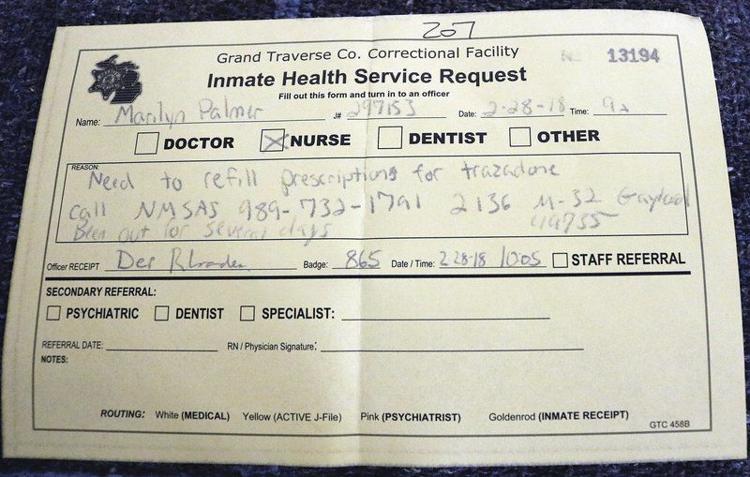 Cellmates said Palmer was distraught about missing Easter and her son's 13th birthday.
"It's sad. It's horrible. It's an unfortunate situation, it's a tough situation," Williams said. "(Her family), they don't want to see anyone else ever go through this again — ever."
Palmer's mother did not immediately return a call for comment.
The County Board of Commissioners approved the settlement offer in August, but at the time declined to disclose the amout. A Record-Eagle Freedom of Information Act request for the material was denied and an appeal of that decision is yet to be heard by the board.
Commission Chair Rob Hentschel said the decision was purely a financial one and indicates no wrongdoing. He said paying the settlement is significantly "less expensive than defending the position of having done no wrong."
"It's a very tragic case, and no one's suggesting it's not," Hentschel said. "There's a family left in the wake of a disaster. But according to the records at the jail, they followed their procedures, they did what they were supposed to do."
The settlement comes 10 months after the finalization of a $125,000 settlement for the family of Alan Halloway, who killed himself in the jail in 2017. Williams also represented the Halloway family in that settlement — one he said shed light on a bevy of problems in the jail.
"I really hope that they are addressed because if they're not, these kinds of problems will continue — this won't be the last," he said.
Palmer and Halloway mark two of 51 suicide attempts at the jail between 2011 and 2018.
The jail captain who presided over the jail at the time of their deaths, Todd Ritter, resigned amid controversy in April after being accused of maintaining "intimate relationships" with former inmates, giving county drug test kits to one, and showing favoritism toward certain female prisoners, according to reports obtained through a Record-Eagle Freedom of Information Act request.
Michigan State Police investigated those allegations and Prosecutor Noelle Moeggenberg is reviewing investigators' report for potential charges.
Ritter's successor, Jail Capt. Chris Barsheff, declined to comment on the settlement Wednesday.
New management and talk of reform does little to assuage Williams' concerns over jail operations.
"Two people committed suicide within a six month window," he said. "They still have a lot of work to do over there to make that a safe place, and to ensure that this doesn't keep happening."