TRAVERSE CITY — A longtime radio presence and first-time state representative from Lake Ann is looking for another term, and a retired certified pharmacy technician trainer is challenging him.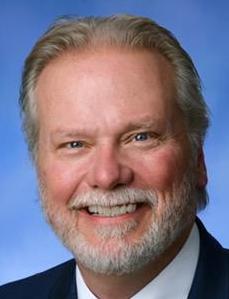 Beth McGill-Rizer, of Ludington, is running for the Nov. 3 election to unseat Republican incumbent Rep. Jack O'Malley, who represents the state's 101st District. She said the health and safety of everyone in the district will always be her top priority.
"My decisions will always be based on the evidence, and ... my personal feelings and beliefs don't enter into the picture," she said.
O'Malley said he has gotten to know the area and what people there think and need, and he has continued to listen during his term. He believes he works well across the aisle and that he has kept his promise of working hard.
"Some probably have worked as hard as I have, but nobody's worked harder and I will continue to work hard, because that's why I'm here," he said.
Staying safe while through COVID-19 is crucial, as livelihoods can be replaced but lives can't, McGill-Rizer said. The state can keep gradually reopening if people stick to safety protocols like wearing masks and washing hands. There are plenty of jobs people can do safely like road and infrastructure work.
O'Malley said he wants to help small businesses hit hard by the pandemic — he has heard anywhere from 25 to 40 percent might not survive the winter. He supports giving them business interruption-type grants, and backed a pending law protecting employers from frivolous COVID-19 related lawsuits.
Both McGill-Rizer and O'Malley agreed that too many regulations on daycare providers is creating a shortage in the district, especially of home childcare. Each have different ideas for tackling the problem.
O'Malley said he backs a few bills, one of which gives providers 90 days to implement any new or amended rules. Another allows one additional child per home childcare provider, up to seven. That would give providers more income and create another slot for a child.
"It's not a perfect fix, there's so many more things we need to do, but this at least is letting people know, it's letting parents know, it's letting day care providers know, that there's somebody in Lansing actually trying to get something done for them," he said.
McGill-Rizer said she believes the solution is increasing the number of providers, starting with better pay. That could involve providing childcare grants to those who need them. The state also could cover the cost of continuing education, rather than making providers who are already underpaid foot the bill.
"We certainly want to keep our kids safe, we certainly want people to be trained in CPR and first aid, and again those are things that, can those services be made at low- to no cost for providers? We as a society need to make a commitment to that," she said.
Michigan spent $15.2 billion on education in its past budget, and O'Malley said he wants more accountability on how its spent. Local districts should have more control, the governor should appoint the state Superintendent and the state Board of Education should include regional representation — a member from the Upper Peninsula and one from the northwest Lower, for example.
McGill-Rizer said she believes standardized testing doesn't work, and the state could spend the money on better pay for teachers — they proved they've earned it by stepping up during the pandemic, she said. The money could also bolster school breakfast and lunch programs.
Those are some of the many interconnected issues McGill-Rizer wants to tackle, she said — increasing broadband availability in rural areas helps students study and connects people to telehealth, to name one.
O'Malley wants to keep working on numerous issues in a second term as well, he said. He hopes to chair the Transportation Committee and keep working on spending road money more wisely rather than simply increase taxes, fees and funding.
The 101st District contains Benzie, Leelanau, Manistee and Mason counties, district maps show.
Editor's note: This article has been updated to clarify a reporter's error mischaracterizing Beth McGill-Rizer's former profession. Oct. 19, 2020