TRAVERSE CITY — A builder returns a deposit on a $20,000 remodeling project.
It's not that the construction work was unwanted, but this builder had received an opportunity for a million dollar project and couldn't do both.
Robert O'Hara, six months into his position as the executive officer of the Home Builders Association Grand Traverse Area, heard the story from the homeowner who had his deposit returned from an unidentified builder.
Not much of a choice?
"You can't argue with the builder," O'Hara said from the HBAGTA booth at the Traverse Connect Business Expo at Grand Traverse Resort and Spa on Tuesday. "He has an opportunity that he can't pass up."
A dwindling labor pool was blamed for new construction slowdowns by many industry officials.
"You really have to pay people more just to keep them," said Brian Terhune, who operates Brian Terhune LLC as well as Terhune Construction. "Labor will continue to be a squeeze for us. There are not enough new workers coming into the field."
CLIMBING COSTS
Marcy Hurst, executive assistant at Mac Custom Homes and past president of the HBAGTA, said rising construction costs "across the board" has resulted in a fewer homes going up in Grand Traverse County.
The total number and percentage of new construction permits in the county has declined for the last three years according to permits filed with the Grand Traverse County and Garfield Township building offices.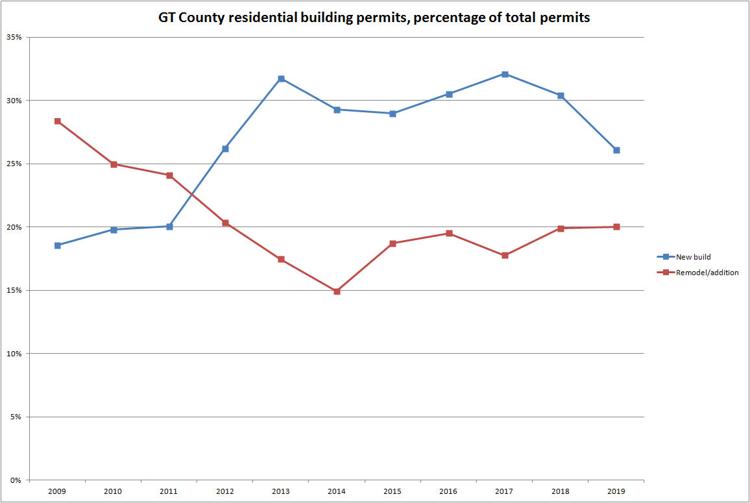 The 419 new residential building permits filed in 2017 dropped to 385 in 2018 and 296 as of Nov. 3, 2019.
The 2017 new construction permits represented 32.08 percent of the 1,306 total building permits in Grand Traverse County, a percentage that was 30.41 percent of the total last year and 26.1 percent in the first 10 months and four days of 2019.
Since 2014, the percentage of new building permits has declined 3.18 percent while remodels and additions climbed 5.1 percent over the same time period.
"I think there was a lot of pent-up demand," said Terhune, who estimates that 75-80 percent of his business is remodeling and renovation. "Since 2012 and maybe as late as 2015, it's really taken off."
Julie Bravender, mortgage loan officer at Lake Michigan Credit Union, contends the first time home-buyer is still active in the market, but the volume has lagged.
Organizations like the Traverse Area Association of Realtors have echoed the belief.
"I'm seeing a lot of demand for new construction, but we can't meet the demand with the remaining builders in the business, especially the subcontractors," Bravender said.
"Builders are limited on taking new business now," O'Hara said. "They cannot find employees to expand their work crews."
Finding and maintaining workers isn't limited to new builds. Terhune said he has a crew of four and remains loyal to the subcontractors he works with to keep the momentum going.
Hurst, who estimates a 75-25 percent new to "larger-scale renovation" work at Mac Custom Homes, said a labor shortage also leads to a longer build time, which also adds to the bottom line.
She said a 30 percent increase in costs from 2018 can cause plans for a $750,000 house in 2017 to soar past $900,000 in 2019.
Rising costs are one of the reasons a lot of new home construction are at more entry-level prices, Hurst said.
Building permit application data, which comes with an estimated cost for the project, affirms it.
From 2014 to 2018, the average estimated cost for new residential construction declined from $226,603 per new permit to $195,731 before increasing negligibly to $198,051 in 2019.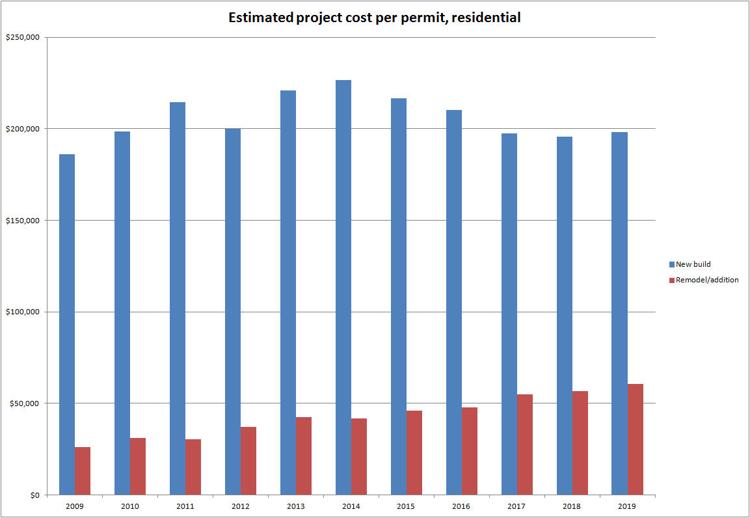 O'Hara said younger home builders can also spread out the 30 percent construction cost increase in a 30-year mortgage or recoup it by selling the house halfway through the term.
"A $200,000 house tends to be a younger buyer coming into the market," O'Hara said. "They have a longer horizon."
Labor is also just a portion of increasing costs. Canadian forest fires can put a crimp on supply of lumber.
"In new construction, the cost is the cost," Hurst said. "We also have tariffs on lumber, metal and other things."
"It's everything," Terhune added. "Materials went up, labor went up. Across the board, the cost of everything went up."
Tom Graziano, co-owner of Ideal Home Services with partner Scott Schichtel, said the "big increase in costs" of materials does have a benefit which can pay future dividends. He said new construction can be something that renovation can't measure up with.
He cited energy-efficient windows, waterproof materials and improved duct work.
"It is what it is," Graziano said. "A lot of them are more money, but the materials are better than they have been in years."
Graziano is in the process of building a house on Potter Road in East Bay Township for his family.
It will also serve as a showcase home for his company. Graziano built a house on five acres in Whitewater Township 10 years ago, but needed to move when his daughters wanted to have cows for 4-H and the homeowners association wouldn't allow it.
"I had to find some land," Graziano said. "These 10 acres were for sale and I bought them, even though I really didn't want to move."
RENOVATION NATION
With the exception of fulfilling his daughter's 4-H goals, more people are choosing to remodel and renovate.
That was true in the years after the housing bubble burst out of necessity a decade ago when 28.37 percent of all permits were for residential remodeling and renovation. It dropped down to 14.92 percent in 2014 and was 20.02 percent in 2019.
Since 2014, the estimated project cost per remodeling permit increased every year, jumping from $41,937 per permit to $60,776.
Terhune and Home Builders Association of Michigan CEO Bob Filka, in a release earlier this year, called it sticker shock.
"I see that a lot," Terhune said. "I've probably had five or six cases in the last two years where people decide to renovate their existing home and make it fit their need."
Hurst said home owners "weathered the storm" of the housing recession by remodeling a decade ago. Bravender said job concerns kept a lot of people in place during that time.
FUTURE TREND?
Tracking new versus renovation in residential building intersected between 2011 and 2012, commercial construction permit data mirrored itself.
New commercial construction represented 2.36 percent of the total number of permits in 2009, peaked at 6.08 percent in 2014, remained relatively flat until 2017 and was a touch under 4 percent in 2018 and this year.
Commercial renovation permits were 13.36 percent of the total number in 2009, hit a high-water mark of 17.15 percent in 2012 and has been between 10.27 percent and 14.11 percent ever since.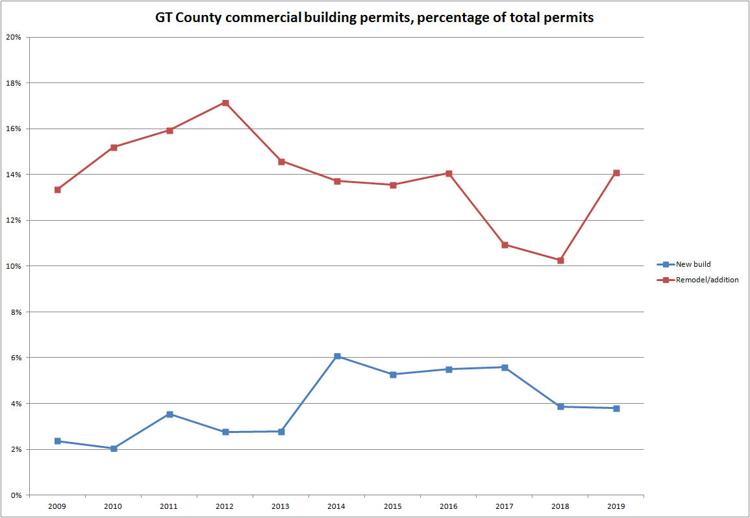 The residential permit data of new and renovation is getting closer again.
"If interest rates go up — which they probably will — and with the costs, new construction will continue to decline," Hurst said.
Bravender said the rate of a 30-year fixed loan percentage, which jumped after the October 2016 election of Donald Trump and peaked at 5⅛ "for a couple of days," has held relatively steady over most of the last 10 years.
Bravender said mortgage refinancing, often with remodeling and renovation costs rolled in, increased over the last half of 2019.
"(Refinancing has) gone up the last six months because the rates dropped under 4 (percent) again, so it made sense for people," Bravender said.
O'Hara said tracking permit rates from 2009 to 2019 should be done with a straight line with less emphasis put on year-to-year variation.
"It'll be interesting to see," O'Hara said. "I think those are more linear things being tracked there rather than if (new and renovation) are magnetically attracted. The hills and valleys are interesting, but I don't think it tells us a whole lot."
In a release from the HBA of Michigan, Filka points toward a "looming housing crisis that we've been warning about for nearly two years."
Filka added there are "many challenges to addressing the crisis including lack of skilled workers, shortage of buildable lots and inconsistent and burdensome government regulations."
Hurst said the trades need to be stressed to kids in and coming out of high school.
Bravender said attracting out-of-state construction workers is a possibility.
Does the data indicate another recession looms in 2020, as some financial analysts have predicted? Or does the decline of new building permits reflect declining birth rates from decades prior? Or is the data a reaction to a combination of factors?
It could be as simple as seeing what 2020 brings.
"It all depends on the economy in the next year," O'Hara said.