TRAVERSE CITY — Ten names.
They stared back from the glowing screen of my laptop. I felt my shoulders drop, my jaw tighten.
Those 10 names gathered, among the thousands of others, confirmed family rumors that swirled since before I was born. Ten names buried in the 220-page roster of children funneled through the Mount Pleasant Indian Industrial Boarding School during the 40-plus years it operated.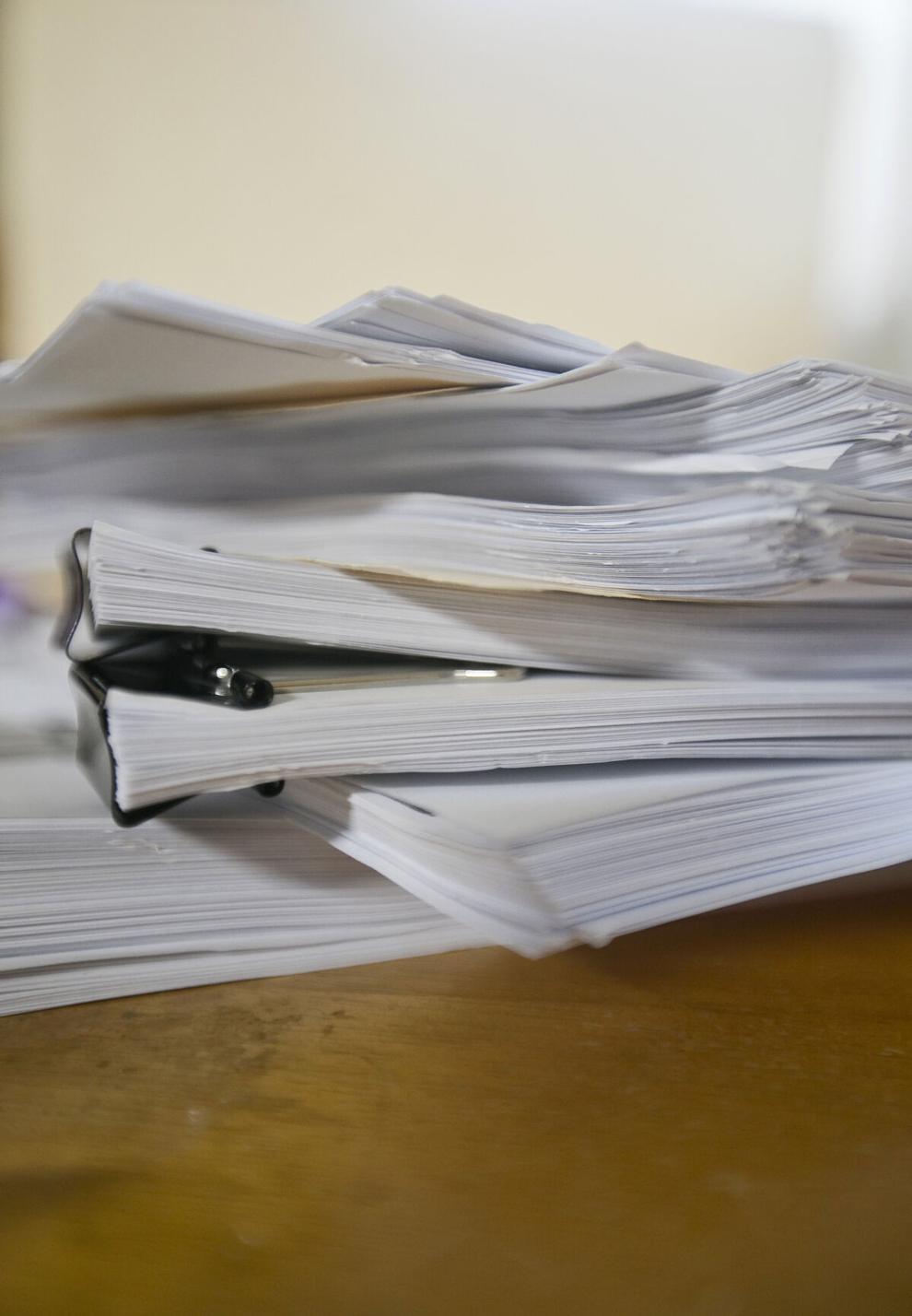 Name, birth date, year enrolled, year discharged. All children as young as my own. All subjected to a brutal system that now has fallen under intense scrutiny after thousands of bodies — most of them children — were found in unmarked graves at sites of now-shuttered boarding schools.
The Mount Pleasant school was one of a fleet of 350 that once were spread across the U.S. and were funded by the U.S. Bureau of Indian Affairs, three of them located in Michigan. The often church-run, but government funded and regulated, facilities were part of a sweeping effort by governments both in the U.S. and Canada to erase Indigenous culture and practices, one generation at a time.
The horrors that unfolded at the schools have been long known and discussed in Indigenous communities, but garnered fresh attention from the mainstream media in May when First Nations officials in Canada announced that at least 200 unmarked gravesites were rediscovered on the grounds of a former residential boarding school in Kamloops, British Columbia. Inspections at other former boarding school sites have since pushed the number of unmarked graves discovered into the thousands.
For Indigenous communities of the U.S. and Canada, the nightmares were never forgotten. For decades, Native Americans have been calling for action on the behalf of our families.
I dug out those 220 pages because of my work as an Indigenous affairs journalist. I was assigned to document and explain the history of Indian boarding schools in Michigan.
The boarding schools — some which continued operating into the 1980s and 1990s — had a long-known and deep impact on my community, but I didn't expect to find my roots so intertwined with those institutions.
My first article on the schools published in early June, and a flood of emails followed from Anishinaabek all over Michigan.
People reached out to share their stories, their experiences with residential boarding schools.
I spent the months that followed driving to elders, and community members who reached out — many of their stories I haven't yet written about. Many I may not write about because I wasn't there to collect traumas for the sake an article, I wanted to listen to my community.
I am Kichi Wiikwedong Odawa first and I have a duty to my history and family.
The stories of residential boarding schools are complex and wide-ranging — unique and lasting impacts to each student, family, tribal nation, and administration — but they are a common thread that runs through nearly every Indigenous person, both in the U.S. and Canada.
I found myself traversing through collective trauma as a person both reporting on it, and hurting from it. It is simply not good enough to collect stories without listening.
Residential schools changed the course of my family devastatingly, but until now, I didn't know the magnitude. The phrase "it runs in the family," was consistent in explaining the colonial pain that followed us.
As I am called to do, I looked to my elders for guidance and answers.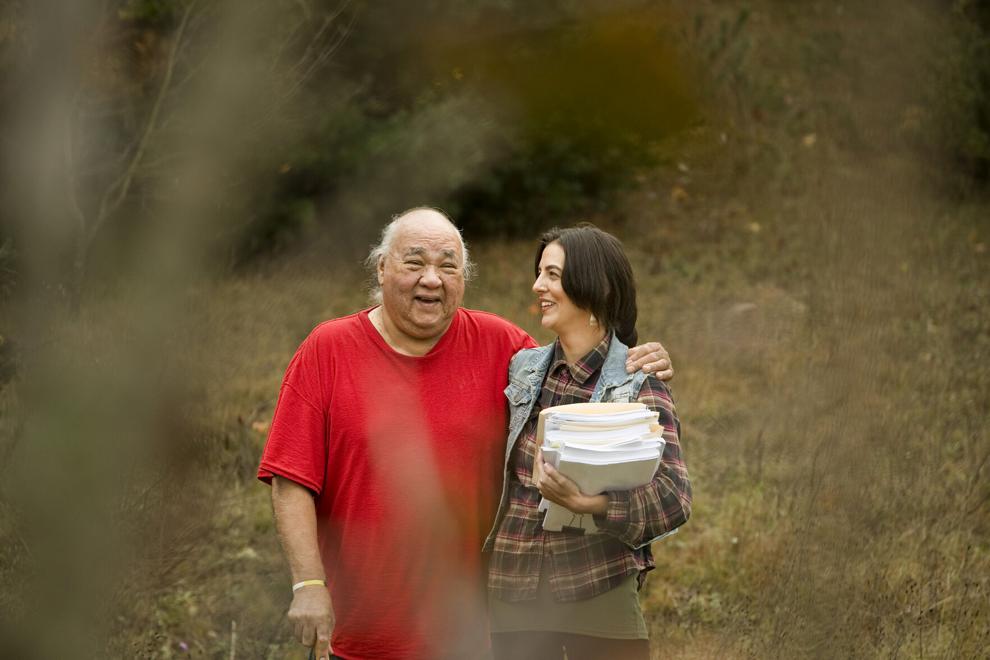 On a sunny afternoon in late September, I pulled up to my uncle Tom Antoine's house, just down the road from where I grew up on the Peshawbestown reservation. Nestled in tall, overlooking pine trees, his house is a symbol of comfort and love for me — a place where we share laughs and a lot of love.
Inside I was greeted by the familiar smells of freshly lit cedar and sage. He sat in his recliner, a cup of coffee next to him, and greeted me with his usual, soft "hello."
The weight of stacked manila folders containing hundreds of pages of names escaped my arms as he hugged me.
My uncle Tom is tall and big as a grizzly bear, but his hands are gentle. He carefully opened the folders containing his father's, aunts', uncles', and grandparents' names and enrollment records. His eyes widened as I sat down and showed him what I found. They all attended the Mount Pleasant Indian Industrial Boarding School.
A lump crept into his throat as he read, he swallowed hard and said "I never knew this. He never spoke of it ... none of them did."
Growing up, Tom said that his father, Cletus, or aunts and uncles never mentioned the boarding schools. They seldom talked about their life growing up.
"I knew we were different, but I didn't understand back then," he said.
He began to tell stories of his childhood as I tried to make sense of where our family lost our traditions, and language.
It's then that I recalled my mother's stories of her growing up, and the fear that arose when unannounced visitors came to the door. That fear followed her from our uncle's time, he said when they were hidden as children when a knock was at the door. And somehow it presented itself when I was a child, being told to "go wait in our rooms," until my mother knew who was on the other side.
Until the 1978, Indigenous parents could be jailed for refusing a government agent's decision to take their children to the boarding schools.
Simple games like that take on darker meaning when you understand the fear from which they sprouted generations before.
My uncle Tom's mother, Helena Smith, and his grandmother, Della Smith, spoke our language.
He said he would hear the adults whispering it in the kitchen late at night, but they were quick to close their lips when children wandered within earshot. He asked his father if he could learn the language, too.
"He told me 'no,' that there was no need for it anymore because we were living in a white man's world," he said.
They never spoke of it after that.
Tom said he would catch pieces of our culture through small acts, like the red tea his grandmother Della would brew, made of red willow, a traditional medicine in our tribe.
Della would do "odd things," during certain times of the year, and make medicines, tinctures, and teas out of what he thought were weeds. Younger family members never understood fully what she was doing, he laughed.
Tom explained to me that it wasn't until adulthood, when he began seeking out our culture, that he understood more of what Della was doing.
"She knew our medicines," he said, she was the last traditional person in our family, and it's such a shame she never was able to show us that," he said.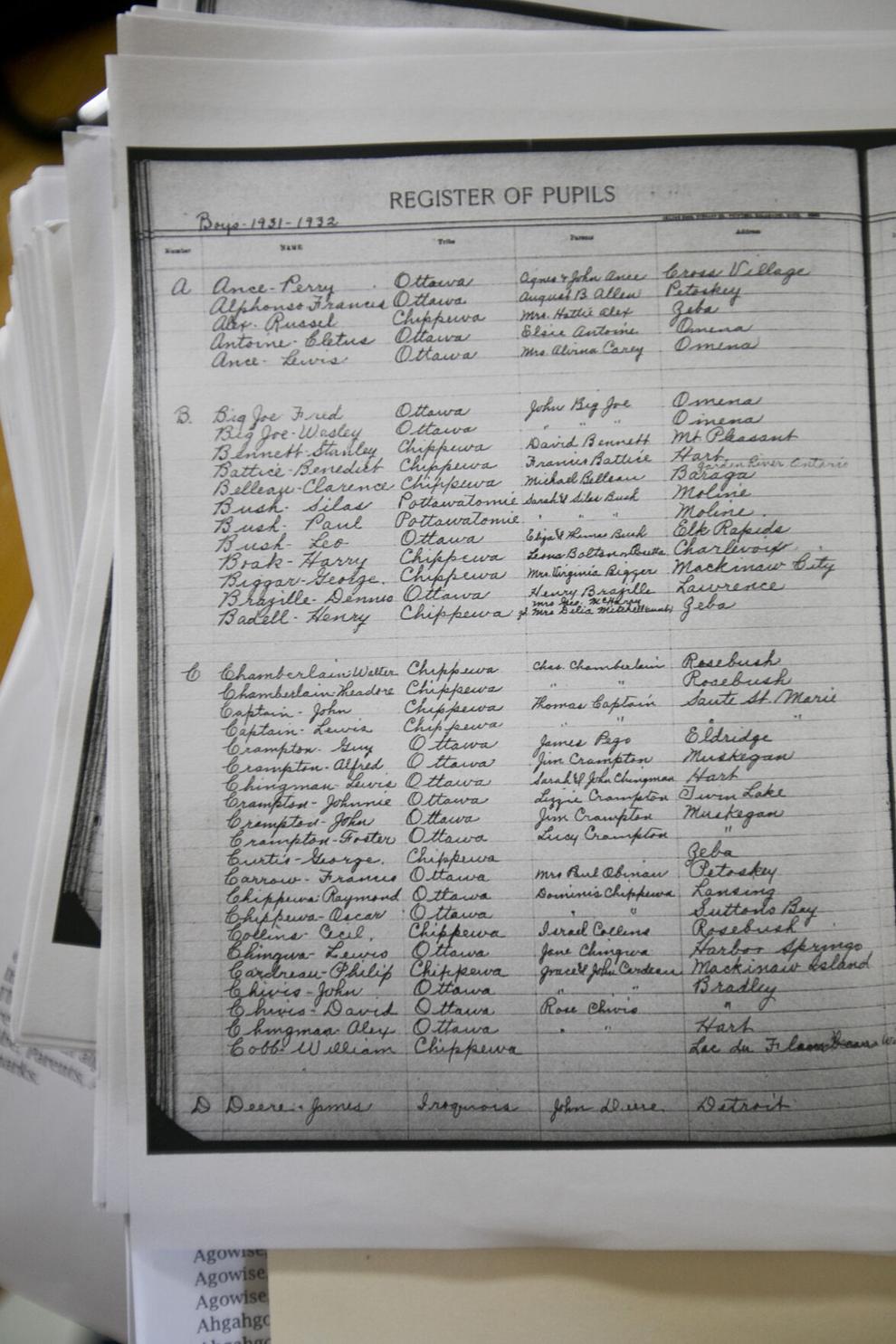 He said the newfound records explain some of his memories of his parents hiding parts of their "Indigenity" from the outside world, why they never spoke of it and why our family was hurting so much.
As I listened to my uncle recall a childhood devoid of our traditions and culture, I realized my family lost our roots because of a need to endure in a world that wanted to "kill the Indian, save the man."
"They were surviving," Tom said. And the long-term impacts exist today in our family — trauma passed down that became ingrained in the bloodline, he explained.
I asked if he believed the residential boarding schools succeeded in assimilating our family.
"Yes, oh yes," he replied in a bleak tone.
The experiences he recounted and the anguish in his voice that afternoon mirrored what I heard from dozens of others during the past few months. That thread ties together Indigenous families and communities nationwide — legacy effects of federal boarding school policies and initiatives that carried on for more than 150 years.
In the post-Civil War era, BIA modeled many of the schools after the Carlisle Indian Industrial School in Pennsylvania. That school was founded by Civil War Lt. Richard Henry Pratt, who embraced and popularized the motto "Kill the Indian, Save the Man."
Many of the facilities operated from the early 1800s through the 1980s and 1990s — the last residential school in Michigan, the one in Harbor Springs, didn't close until the 1980s.
The firsthand experiences retold to me by several elders who attended the schools are nothing short of horrific — vivid descriptions of a brutal system built to cleanse them of their culture.
On Sept. 30, the first national day of Remembrance for Indian Boarding Schools, "The Truth and Healing Commission on Indian Boarding School Policies in the U.S Act" was introduced by U.S. Sen. Elizabeth Warren.
The bill aims to create a special commission for the federal government to investigate, document, and address the generational trauma for Indigenous people affected by the schools.
The bill follows an announcement made earlier this year by Secretary of the Interior Deb Haaland launching an effort to collect, document and preserve records from the schools. Many of the remaining records are held in private church archives maintained by the institutions that once ran the schools, including the Catholic Diocese of Gaylord.
In the spring, Warren Petoskey, an elder of the Waganakising Odawa and Minneconjou Lakotah tribes, shared his story with me to educate the public about how generational trauma inflicted by the boarding schools impacted him and his family.
"I am a blessed man to have survived the effects of generational trauma my family has faced," he said.
His father and aunts were separated and enrolled in boarding schools in Mount Pleasant and Carlise, Pennsylvania. Petoskey said as a child, his father wouldn't speak their language around him or engage with him in traditional practices.
Growing up, he didn't understand what "normal" family life looked like, and fighting with his alcoholic and abusive father was constant.
By age 14, Petoskey said due to the physical conflict with his father, he was placed in a foster care home, where he became a farm laborer. It wasn't until years later, after his father quit drinking, that the two reconciled their relationship.
Petoskey was an adult before his aunts explained the abuse they and his father endured at the schools. It was then that he began to realize how the trauma had reached beyond his father's generation.
His father was removed from his community, stripped of the language, culture, and denied a loving relationship from his own parents.
"He was hurting and in pain, and was medicating himself in alcohol," Petoskey said.
According to the Centers for Disease Control and Prevention, American Indians and Alaska Natives are at six-times higher risk of developing an alcohol use disorder, three times higher risk of depression, and two times higher risk of suicide, than the general population.
Dr. Maria Yellow Horse Brave Heart, an associate professor in the Department of Psychiatry and the director of Native American and Disparities Research at the University of New Mexico in the Center for Rural and Community Behavioral Health, said the result of centuries of genocide and anti-Indigenous policies has resulted in unresolved trauma that impacts Indigenous health in the 21st century.
In her research beginning in the early 1990s, Brave Heart focused on Indigenous collective trauma, grief and loss, historical trauma, healing intervention, and mental health in Indigenous populations.
She writes that the generational trauma documented in her research is "echoing through generations by symptoms of survivor guilt, anger, depression, self-destructive behaviors and a number of other disorders."
Petoskey said he has seen a positive shift in his community as older generations confront the legacy left by the schools.
Both Petoskey and his wife, Barbara, run Dawnland Native Ministries, which, he said offers programs to address historical trauma in impacted communities. They aim to heal younger and older generations collectively.
Petoskey said Indigenous communities working to heal and demanding accountability and action sparks hope. He sees it in younger generations taking back their culture, and language, and in the nation's boarding school history being pulled into conversations throughout communities.
When I last saw Petoskey at his home in Charlevoix, his family was preparing for a naming ceremony for his two younger nieces, an Anishinaabek tradition that can simply be summed up as a rite of passage.
He said it was monumental to witness the great courage of younger generations taking back what their ancestors were denied.
Being Odawa and a journalist has made reporting on residential boarding schools challenging. Finding my own history while scouring records for work was devastating.
Maybe that's why I found myself traveling to meet elders to hear their stories and guidance, and talking with community members doing the work to heal.
The notion weighs heavy that as I continue to do this work, each surfaced document, or story, brings the potential to unearth more of my own family history.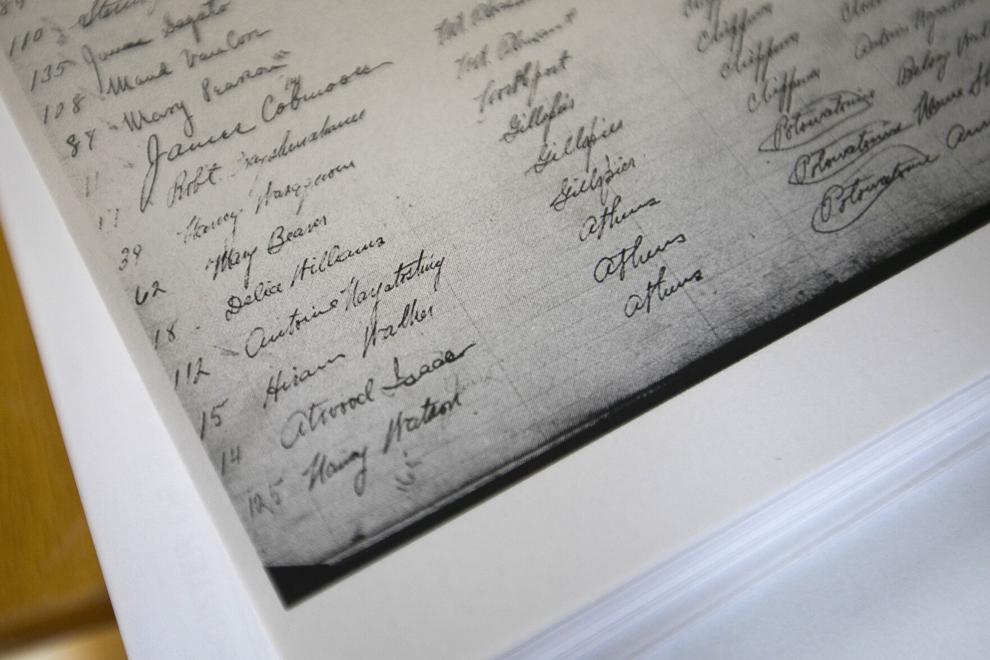 My uncle requested later that day we go down one of our normal dirt roads to visit his sage spot and collect cedar. The familiar bumps and curves of the two-track led to a small clearing between the trees that once held traditional ceremonies.
Now, only the skeletal remains of the lodge stand, mostly fallen and weathered, surrounded by little evidence that the lodge was once packed "shoulder to shoulder, with Anishinaabe from all over" my uncle recalled.
I spent the rest of my time with my uncle interweaving traditional knowledge about medicinal plants and stories of our family.
As I watched my uncle offering asemaa (tobacco) to the sage patch, I reached down to my own asemaa pouch. I smiled as I stared at in in my hands. My uncle taught me how to sew the deer-hide together with sinew. He gifted me the knowledge of how to properly take care of it, and the teachings that follow.
I pulled it open to take out a pinch of the medicine.
Maybe the residential schools were not so successful after all and maybe it is never too late to reclaim what was once denied to us.