TRAVERSE CITY — Thousands of athletes are set to swim, run and bike in Traverse City for the Ironman 70.3 triathlon Sunday, with many more expected to watch and help.
A massive race also means closed road lanes or, in some cases, entire roads as organizers prepare a sprawling course through town and stretching from Traverse City to Empire.
Some along the route are taking it in stride, and locals have signed up to volunteer or compete.
Marci Butlemeier will be among the roughly 2,500 runners hoofing down a course a block from her Boardman Neighborhood home, she said. She's been training six to 10 hours a week since April — not as much as the working mom would like, she admits — for what will be her fourth Ironman event. She and her husband are putting up a few other athletes, too, one from Canada and another from Australia.
"It's just great to be around other people who want to be healthy and exercise as a hobby, and also to train with my friends," she said.
Racers start the 70.3-mile course with a swim in West Grand Traverse Bay, and the first group hits the water at 7 a.m., according to information from race organizers.
Boardman Neighborhood Association President Elizabeth Whelan said she heard grumbles about another summer weekend being "usurped" by a big event in the city. But being upset about it won't make it go away, she said.
"I think the neighborhood has pretty well embraced it, they've decided it's going to be here, they might as well embrace it anyway," she said.
Neighbors will park cars at intersections along Franklin Street to protect runners, Whelan said. She works for Father Fred Foundation, one of several nonprofits that'll benefit from donations tied to the race, she said.
Cass, Front and Franklin streets will be closed from 5 a.m. to 7 p.m., according to a race information mailer. So too will the Boardman Lake Trail from 5 a.m. to 5 p.m., along with the Hull Park boat launch.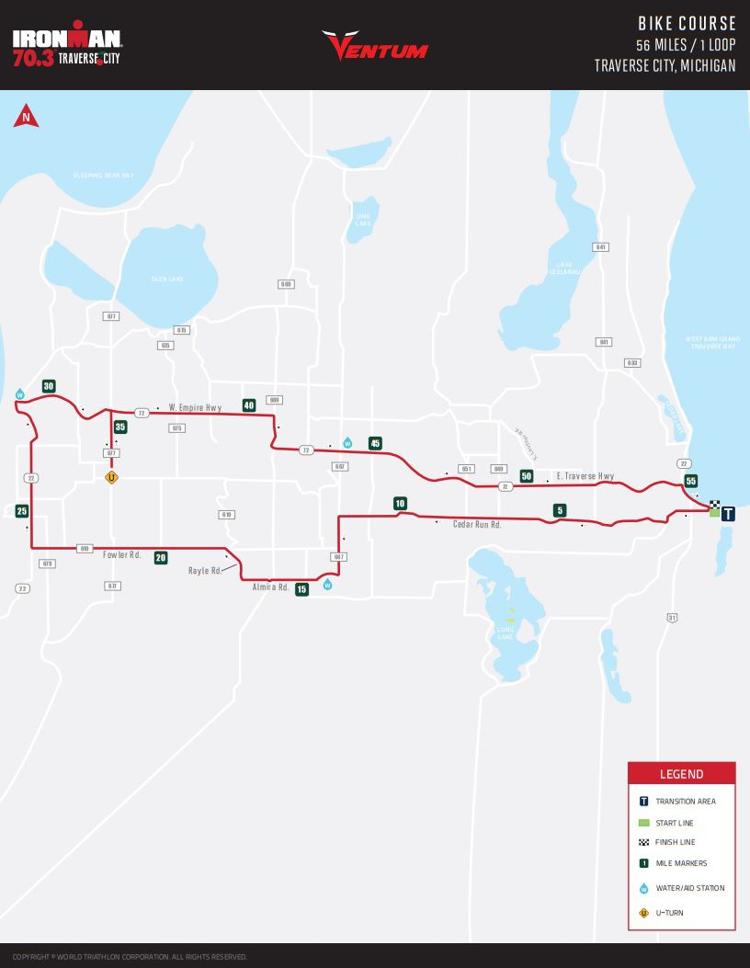 The bicycle route involves "rolling closures" along its 56-mile loop, Ironman 70.3 Traverse City Race Director Joel Gaff said.
Organizers will close single lanes three to six hours at a time — Union Street in Traverse City and Benzonia Trail in Empire Township will be completely closed, race information shows. Open lanes will take drivers one way in their usual direction and at slower speeds — the speed limit on M-72's westbound lane will be 35 MPH, Gaff said.
Lane closures start as early as 4 a.m. and as late as 8:45 a.m., then wrap at times ranging from 10:30 a.m. to 2 p.m.
David Shier, West Side Community Church director of operations, said he talked with race organizers to plan a detour for the nearly 2,000 worshipers who come to the church's two Sunday services.
People who live south or east of the church will have to head to Traverse City, then come west on M-72 Sunday, Shier said. He expects a congregation of people hardy enough to trek through snowy and icy winters will find a way.
"The bottom line is, we're just telling people if you leave 15, 20 minutes earlier than you normally would, that you'll be fine," he said.
Planning ahead and leaving early was a common refrain when Gaff spoke with city commissioners at a recent meeting. He told them about efforts to get permits from local government officials — including city Clerk Benjamin Marentette — and fielded questions about how Traverse City will be impacted.
"It's not going to be an invisible event, we understand that completely, but we feel very confident that things are moving along smoothly and that impacts are being limited as best a they can in the process," Gaff told commissioners.
Anyone with questions about road closures can call Traverse City Tourism at 1-800-872-8377, organization CEO Trevor Tkach said. The organization is the event host.
Duncan Clinch Marina users will be affected as well. Racers will swim a 1.2-mile path from the Volleyball Courts near the Open Space, around the marina and to Clinch Beach, a course map shows.
Boat traffic to and from the marina will be closed from 5-10 a.m., Gaff said.
That could delay John McIntosh's departure, he said. He's taking his 43-foot yacht, N'Oceans, around the "loop" — up the Atlantic coast from home in Lantana, Florida, down the St. Lawrence Seaway through the Great Lakes, then down the Illinois and Mississippi rivers to the Gulf of Mexico. He starts for the west Lake Michigan shoreline Sunday, but isn't worried.
"Maybe I was going to leave at 9 (a.m.), and I leave at 10, 10:30," he said. "The biggest concern I have on days that I'm leaving is the weather."
Andy Hegenauer, of Suttons Bay, said it could throw off his plans to go fishing Sunday morning. He was unaware of the closure — marina dock attendant Lee Lancewicz said he's fielded lots of inquiries and has cards to hand out with the date and times.
Bay Area Transit Authority routes will be impacted, too, according to the organization. Its Bayline bus route will split into two for the day, its village loops to Interlochen, Kingsley and Fife Lake, Northport and Wiliamsburg won't have morning runs and one — its route to Glen Arbor — will be suspended Sunday.
Some Sara Hardy Farmers Market will be moved to different spots Saturday when race set-up takes up part of their space, as previously reported.
Tkach said organizers are promoting the farmers market to race athletes, and the first 400 who come Saturday get a $5 voucher.
Gaff urged city commissioners to consider the many positives to the race, including the positive effects it'll have on athletes.
The Ironman Foundation will also donate $25,000 to local nonprofits and give $40,000 in equipment to Grand Traverse Metro Fire Department in partnership with Firehouse Subs, among other philanthropy, Gaff said.
This year's race is the first of two city commissioners approved, and organizers will review how it went afterward to improve on next year's, Gaff said.
Tkach said he's heard lots of misconceptions about road closures — first responders have the right-of-way, he said. He urged people to check out the routes, and said he's been overwhelmed by the support.
Whelan said she knows people are upset about the race and were looking forward to a quiet weekend before school starts.
"You can worry about it or just go with it, so I'm hoping people will just go with it," she said.