TRAVERSE CITY — It's the graphic area residents have been talking about recently.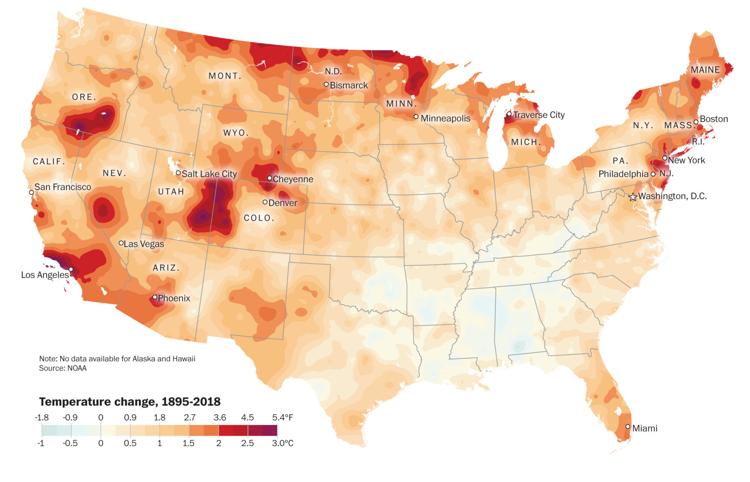 A bright red splotch on on the ever-recognizable outline of the Lower Michigan coastline, practically glowing in its warning of extreme climate change impacts that extend through the region's cherry belt. It's a hot spot, and the data proves it.
Growers, ecologists and climate specialists across both the region and state took notice of the memorable map recently published by The Washington Post, along with its bright, red, hot spots.
"We've kind of known for a while and so it's interesting to see it hit the news," said Julie Christian, chief of natural resources at Sleeping Bear Dunes National Lakeshore.
She said the famed piping plover shorebirds that nest within the national park tend to migrate back to the territory a day or two earlier about every other year. Then there's spring's first leaves on the trees that appear up to two weeks earlier than 30 years ago, she said.
It's not just here. A recent federal report showed 53 percent of the nation's more than 250 national park sites across the country are experiencing extremely early springs, Christian said.
Of local importance is the national park along the Lake Michigan coast in Benzie and Leelanau counties at the heart of the local hot zone, which was specifically mentioned in the Post's Aug. 13 article.
Federal data shows the Grand Traverse region has passed the critical threshold for global warming in terms of average temperature increases, set at 2 degrees Celsius — or 3.6 degrees Fahrenheit — in the international 2015 Paris accord.
A team of environmental and data journalists at The Washington Post recently analyzed more than a century of temperature records from the National Oceanic and Atmospheric Administration across the Lower 48 states. They calculated average temperature increases and created a map that shows where the climbing heat is hottest.
The Post's project revealed both Benzie and Grand Traverse counties have increased in average temperatures by 2.3 degrees Celcius, putting them among the 14 counties with the highest temperature spikes calculated across the map. Only a handful of counties in the analysis — spots in California, Colorado, Minnesota and Utah — experienced greater average temperature increases.
Grape-growers have known this for a while, said Sean O'Keefe, winemaker at Mari Vineyards on Old Mission Peninsula.
"In wine-making, we pay attention to these things very carefully," he said. "We are basing some of our plantings on knowing the temps are warmer than they were in the 1970s when my father was planting here."
O'Keefe said the element of local climate change impacts that scares farmers the most, though, are the erratic weather extremes. Stronger storms and lengthier polar vortexes in consecutive years can ultimately ruin crops.
The Post's data analysis showed Leelanau County has increased by an average of 2.2 degrees Celsius — also beyond the critical threshold — while Kalkaska County increased by 2 degrees Celsius and Antrim County by 1.8 degrees Celsius.
Data for Alpena, Presque Isle, and Alcona counties on Lower Michigan's eastern coast also show extreme warming, by 2 degrees Celsius for Alpena County and 1.9 degrees Celsius for the other two.
Some environmental advocates also said the national newspaper's analysis only confirmed and visually displayed what they already knew.
"I was not shocked by the article and the fact we've reached that 2 degree range," said Christine Crissman, executive director at the Watershed Center Grand Traverse Bay.
What did surprise her was the hot spot along Lower Michigan's western coast didn't extend further south, but is instead in a locally targeted area. She wonders what makes this spot so susceptible, she said.
Kimberly Hall, climate change ecologist based in Michigan with The Nature Conservancy, said her assumption is it's a combination of higher latitude areas warming faster that lower latitudes which is a global pattern, plus Great Lakes surface water temperatures warming faster than air temperatures. So proximity to the lake and perhaps wind and current patterns contribute to the spot warming faster than surrounding areas, she said.
"So the lakes are buffering how cold the air temps get over nearby land in the winter, which is when most of these persistent increases are being seen," Hall said.
James Clift, deputy director for the Michigan Department of Environment, Great Lakes and Energy (formerly Environmental Quality), said officials at the state agency also looked at the Post's data project. He highlighted that not many such studies use information from such a lengthy period — 1895 to 2018.
He said state environmental officials also believe effects from proximity to Great Lakes waters likely is connected to the literal hot spots in Michigan.
"I know there is some phenomenon with the lake and its ability to retain that heat," Clift said.
He said it's often reflected in how much of the Lower Peninsula of late experiences much less snow cover than in past decades. But the average temperature changes aren't the most concerning factor, but is instead the extreme weather events — just as O'Keefe pointed out.
"The erratic weather really is the hallmark of climate change," Clift said.
It means farmers must grapple with wild weather and even tourism businesses must invest in equipment and systems unnecessary in decades past, such as snow-making machines at ski resorts.
The stateside Michigan Climate Action Network is based in Traverse City, where the nonprofit's director this week said the Post's analysis is surprising to many perhaps because the region's residents tend to think being surrounded by the Great Lakes is a sort of shield from climate change. Turns out that's not true.
"It's interesting that there's a hot spot of activism here as well as a hot spot of warming," said Kate Madigan.
She said it's important for those concerned about global warming to not become "paralyzed with fear" and instead urge lawmakers to move fast and take bold steps to address the problem.
It may be a worldwide climate crisis, she said, but the data shows this area literally feels the heat more than others.