TRAVERSE CITY — Following a fall wedding, Jeff and Jes Houser were ready to live up to their name.
After renting in Traverse City as individuals and as a couple, the millennials were ready to make the move into the world of home ownership. But just having house in their surname isn't enough.
Affording, finding and buying a home in Grand Traverse County is not easy for a lot of reasons. But it's getting to be more difficult as millennials — those born between 1981 and 1996 — start entering the work force.
"That seems to be what we've encountered with a number of our friends," said Jes Houser, a 31-year-old Traverse City native.
"A lot of people my age are dealing with student debt or still trying to figure out what they want to do. I know for myself, sometimes rent is more expensive than buying a home, but I didn't know where I wanted to be."
"It's the permanence thing," added Jeff Houser, a 34-year-old native of Cleveland, who went through his own career change from the beer industry to advertising since moving to Traverse City from Los Angeles. "We're all moving around in our jobs so much."
Even after making the decision that Traverse City was where they wanted to be, finding a house the active couple could afford in the part of town they wanted to be proved difficult.
The Housers started looking a month after their Oct. 6 wedding and moved into a 123-year-old house on Eighth Street a month ago.
Other millennials are putting purchase off entirely, opting to rent.
Lauren Fager, 22, rents in Traverse City while she works and finishes classes at Northwestern Michigan College.
She plans to finish her education downstate and put buying off into the unknowable future.
"In the long run I'd like to be able to be a homeowner like my parents (in Elk Rapids)," Fager said from behind the counter at Cherry Republic.
"It is a little bit of an unknown because I don't know where my career will take me."
Not worrying about owner upkeep — like fixing a malfunctioning air conditioner or replacing a broken appliance — has its perks, she said.
"I don't have to worry about that type of thing," she said. "I can call the manager and say, 'Hey, the dryer is out.'"
COMPETITIVE MARKET
According to the Traverse Area Association of Realtors, the median price of a Grand Traverse County home has increased 51.3 percent to $230,000 from 2012 to 2018. During that time the average days on the market has shrunk from 165 to 95.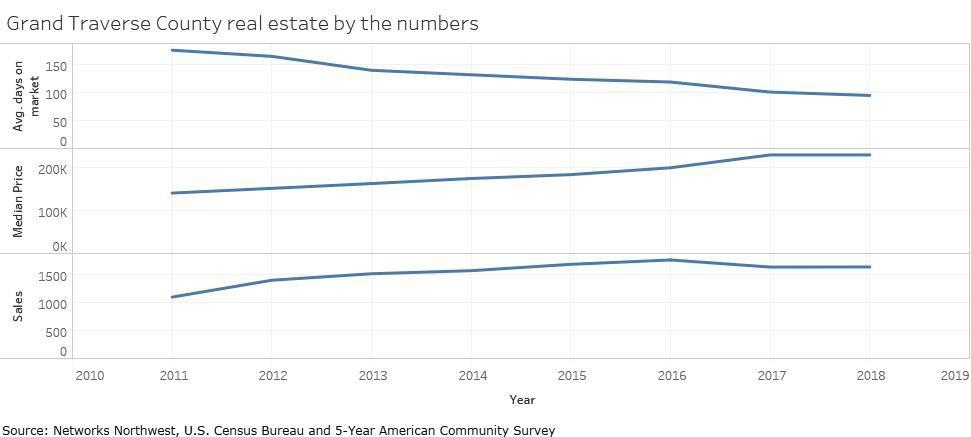 The Housers said they have friends who put in 15 different bids on houses after getting outbid repeatedly.
The Housers battled a lot of competition for their 1,000-square-foot home on Eighth Street.
"There are so many people in our bucket that are just struggling to meet this price point," Jeff Houser said.
"We were one of seven offers on this house that we know of," Jes said.
It was on the market for just three days.
GETTING UP THE DOWN PAYMENT
Once the Housers decided to buy a house and stop renting above a business in the Slabtown section of Traverse City, the next task became the down payment. To avoid paying private mortgage insurance requires 20 percent down.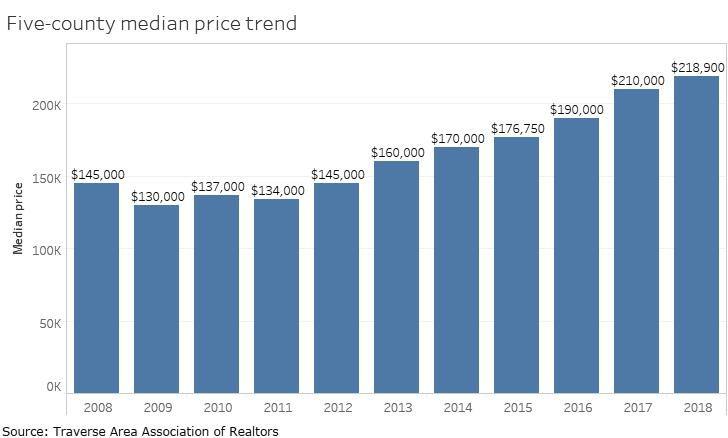 For a $200,000 house — below the five-county average of $218,900 in 2018, 20 percent down is $40,000. Those that put down less than 20 percent on a house have an additional monthly premium within their housing payment for PMI until 78 percent of the loan to original purchase price is reached.
Pete Torrey, vice president of mortgage lending at Honor Bank, said about half of all conventional mortgages have PMI as part of the monthly payment. He said the figure is a little higher with millennials.
"The majority are paying the PMI because they don't have that 20 percent down," said Torrey, who said there are programs like Fannie Mae's HomeReady that make PMI more affordable.
That money up front can be a little daunting.
"I think a big limiting factor is that down payment," Jes Houser said. "It's incredibly intimidating and I think a lot of people don't have that savings, whether it's because of debt or leaving college and not having the job you expected to have.
"It's not like you can rent and save up money. With the rent in Traverse City, it gobbles up so much of your income. It's not like you can rent for cheap and that holds you over until you can buy a house."
Networks Northwest statistics from the U.S. Census Bureau and the 5-Year American Community Survey show the median rent in Grand Traverse County was $917 in 2017. That is nearly 19 percent of the median household income. Add the cost of food and transportation and it can be tough to build up a nest egg for a deposit.
Torrey said he's seeing more millennials look at buying rather than renting because the monthly payment can be less with a mortgage or at least comparable as it was with the Housers.
Finding enough money to put a sizable deposit on a house is difficult because prices outpaced household income in Grand Traverse County. Networks Northwest figures show that the median household income in the county rose from $50,647 in 2010 to $58,229 in 2017, a 15 percent increase.
The median house price in the county climbed 63.1 percent in that eight-year period.
The Housers were able to avoid PMI thanks to their savings bolstered by a gift from his parents. Jes Houser said receiving a gift from in-laws wasn't easy, but added the couple would rather do that rather than "throwing money away" on PMI.
OTHER ALTERNATIVES
While staying in town was something the Housers wanted to do to fit their lifestyles, other millennials look to buy homes outside of the county.
With the exception of Leelanau County ($328,000), the median price in Benzie ($192,000), Antrim ($169,900) and Kalkaska ($124,900) is more reasonable, even if those prices have risen in Benzie (62 percent) and Kalkaska (84.5) much faster than the 51 percent in Grand Traverse and the five-county region overall.
Veteran Realtor Gordon Hodges from Real Estate One reports he isn't seeing fewer millennials purchasing homes than in previous generations. But he added a lot of them are looking to move further outside Traverse City.
Hodges said the internet is proving to be a great equalizer in the local real estate market, especially when millennials can use it to work from home more frequently. He added the first question he often gets from younger purchasers is about the Wi-Fi.
"A lot of them are working from home with internet access, so it's how far out can they go?" Hodges said. "It's the question we get asked up front.
"It's like the old, natural gas or propane question. Now it's what's the internet access?"
Hodges did say it is difficult to find a trend when it comes to millennials and housing. He said millennials are fine with that.
"It's kind of hard to put a box around them and they don't like a box put around them," he said.
SELLING YOURSELF
In the five-county region, the $200,000-$249,999 house was bought nearly 100 times more than the 15 other TAAR price ranges in 2018. That has been the most popular price range in the five counties in three straight years and five of the previous six.
In the ultra-competitive market, buyers are starting to sell themselves. Some millennials submit a letter and include pictures to tip the balance. The Housers equated it with a resume.
The Housers submitted one of those letters.
"We don't have any confirmation that it helped," Jes said. "But we like to think it did."
Jes Houser said she would like to see the region do a better job at making homebuying easier for all generations, but millennials in particular. She said a lot of the affordable homes seem to be sold as second homes or for financial gain.
"Traverse City doesn't exactly draw the young crowd," she said. "In order for the town to be what it is, we need to get better about that. We need to have affordable housing so we can house the people that are waiting on you and cleaning up after you ... supporting the hospitality city that we are.
"If we don't have that and all the homes are getting snatched up by snowbirds, then what kind of town are we going to have? The streets are going to be empty and we're going to have just renters. There's no permanence there. When you have people like us buying houses like us, this is ours. We are part of the community and we want to invest in the community."