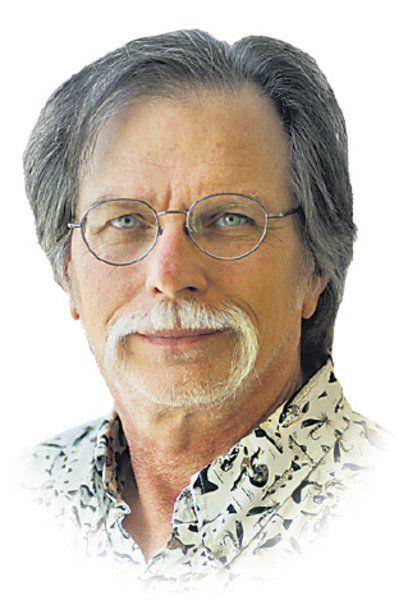 ELK RAPIDS — Jim Chamberlain often fishes in Grand Traverse Bay, but when the weather interferes, he's not at all shy about going inland.
That was the case recently when my brother Phil and I met up with him on what was originally scheduled to be a day of jigging for lake herring. When Chamberlain figured we wouldn't be able to stay on the fish because of the wind and current, he chose to fish Elk Lake instead.
"I feel like these lakes are overlooked," said Chamberlain, who also fishes Torch and Mullet lakes with tactics similar to those he uses on the big water. "There's not a lot of fishing pressure on the trout in these lakes and you don't have to get way off shore to get in fishable water."
Indeed, we launched around 8 a.m. and within a few minutes we were fishing in 150 feet of water. At 8:30 we had our first hit and caught a lake trout on a six-color (60 yards) lead-core line dragging a spoon. It was kind of a bonus fish as we weren't targeting lakers. We were after rainbows.
"Fishing here is different than for Great Lakes steelhead," Chamberlain said. "They don't follow the same pattern. We catch them deeper here a lot. This time of year there's no stratification in the lakes, so it doesn't force them into a zone. They could be anywhere. You can catch them in 10 feet of water off the dock. When the water stratifies they like 65 degrees and under — about 20 to 60 feet down."
In Lake Michigan, steelhead anglers often run well offshore — 300 feet of water — and then drag barely subsurface baits (often Rapala-like plugs) on high lines, catching the fish up high in the water column. In fact, I once knew a skipper who took belly boats out with him and he let his sports float around and fish with fly rods. The idea always intrigued me — though I never did it — but I always imagined I'd get out there, the big boat would have engine trouble, and I'd wind up washing up in Milwaukee a couple of days later.
"This fishing starts right at ice out and peaks around mid-July," Chamberlain said. "Just cover water; when they're feeding, they're aggressive. You'll get days when you get 20 hits. Then they'll start staging to go upriver."
We trolled at 3.2 mph, dragging mostly spoons, though we had some paddle-and-fly rigs out too. We had a couple of hits that failed to hook up, then at 10 a.m., my brother cranked in a rainbow. It was smallish — a little less than 3 pounds, I'd guess — but it was all steelhead: coming out of the water, cartwheeling, etc.
And they are steelhead; about a decade ago, the Department of Natural Resources went through an evaluation of various strains of rainbow trout for stocking in inland lakes (Elk Lake was part of it) and found that there was better survival over time with the steelhead. I'm told there may have been some bias in the study; the steelhead were slightly larger than the other rainbows when they were stocked, which might have led to better survival, but the Eagle Lake strain grew faster and made up the size difference by fall. Netting surveys turned up a few steelhead, but no Eagle Lake rainbows. Steelhead were stocked in 2008, but not again for a decade. So what we were catching were likely naturally produced steelhead that spawned in the Elk River.
But I digress; 30 minutes later, we caught another steelhead.
We were trolling with a couple of downriggers — one set at 40 feet, another at 65 — and a variety of lead-core lines in 150 to 180 feet of water, from two colors to 10 colors, so we were fishing the top 65 feet of the water column. (Lead-core line usually runs about 5 feet deep per color.) We were getting hit often enough that Chamberlain didn't feel the need to go deeper, though he offered he could.
"If you're not catching them you can always drop the 'riggers down," he said.
Which we probably would have had we had lake trout on our minds.
"Some people who get on the boat don't want the rainbows," Chamberlain said. "They want the lake trout. But if you eat the lake trout out of here you'd understand. They're completely different than the fish in the big lake. Their diet is different. They eat young-of-the-year perch and ciscoes."
We had the lake practically to ourselves. I saw just two other boats all morning, both bass boats.
We fished until just past noon and caught one more lake trout. We wound up with four and lost another four (several of which were steelies, we saw them when they came out of the water). It wasn't gangbusters, but it was pretty fair fishing considering the fight we'd have had on the bay. The six-color lead-core line accounted for three of them and we never tripped a downrigger, which is not how things were going up to that point, Chamberlain said. The 'riggers were hot this spring.
Meanwhile, Chamberlain, who said he's caught about a dozen Atlantic salmon on inland water this spring, said he'll be focusing on Atlantics in Lake Huron soon. I'm hoping to accompany him on one of those trips.
You can reach Chamberlain at (248) 252-1277.