TRAVERSE CITY — Nearly 400 residents around Spider Lake recently received postcards decorated not with images of beach scenes or sunsets, but snapshots of a local couple and their 1-year-old child.
The text on the card told recipients that the couple might like to buy their house.
Direct-mail isn't the usual method house-hunters use to seek a new place to live. But frustration with the competitive local housing market pushed Sebastian and Holly Garbsch to try the long-popular marketing technique.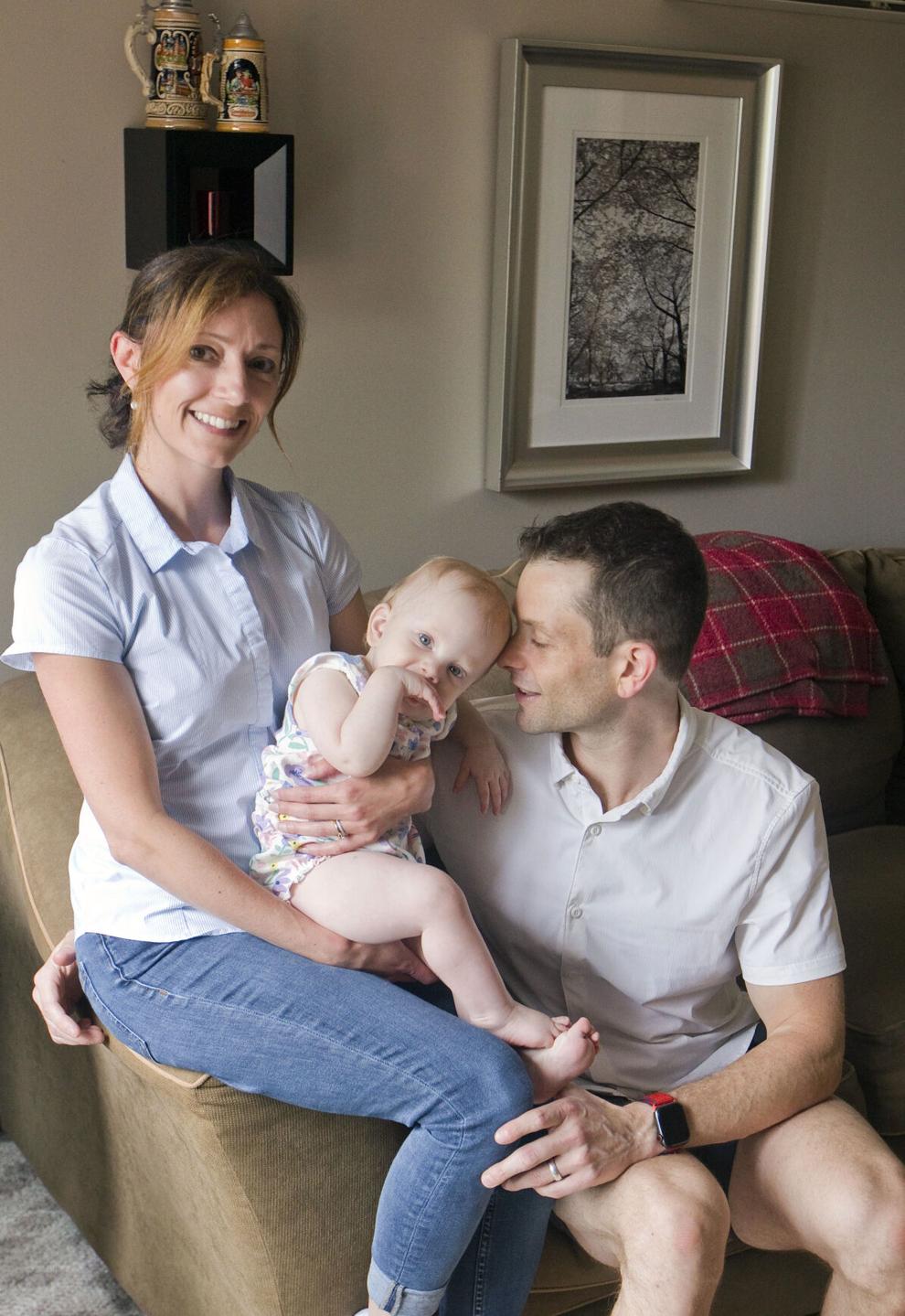 "We own a house just down the road from Spider Lake, in the Arbutus Lake area," Sebastian Garbsch said. "I've lived there for 16 years and it's been like my dream for 16 years to get on the water. We've been saving and saving. The last two summers we've been looking — and it's just hard to find anything. It feels almost like locals are getting priced out."
Two years of looking didn't weaken the couple's desire for a waterfront home. They brainstormed for ways to deliver their story to potential sellers.
"I thought, 'I'll just go through the U.S. Postal Service," said Sebastian Garbsch, who owns two Traverse City businesses: Blue Goat Wine & Provisions, 875 E. Front St., and Formative Fitness, 131 E. State St.
"It might be the best $2 I ever spent, or it might be a lesson learned. As a business owner, you learn that you've got to try everything and one out of 100 things might work. But if it's a big thing (like a house), then it's worth it."
The housing market in and around Traverse City for years has been on a collision course with middle-class budgets. The thud of impact was heard loud and clear during 2020. What had been a challenging gameboard for potential homebuyers suddenly became a bloody battlefield strewn with bidding wars, cash offers and buyers willing to sidestep inspections and take bigger risks.
In response, home prices shot up. Data from real estate company Zillow show month-over-month jumps of as much as $5,000 within the Traverse City housing market. Median home values, calculated by a company index, soon will crest $300,000.
Buyers flooded the local real estate market during the pandemic, many equipped with enough funds in hand to pay cash and motivated enough to dive straight into a sale without taking a deep breath, said Gordon Hodges, a Realtor with Real Estate One Front Street.
"As an example, I just sold a house and then resold it a year and a half later," Hodges said.
That house sold about 18 months ago for $219,000. Hodges just oversaw a purchase agreement on the same property for $300,000. The house, he said, is in a starter-home neighborhood south of Traverse City.
We're living in a sellers' market.
"It's great for those that have the ability to turn around," Hodges said, and buy another place to live.
Today's housing market bears some similarity to the housing boom more than a decade ago. But he believes today's buyers will emerge in better shape than the people back then who found themselves owing more on their mortgages than their homes were worth, a situation commonly called being upside down.
"I don't see a foreclosure market coming," Hodges said. "That's not where I see this happening. I just think that people are going to have to stay there a little bit longer" before reselling a house purchased during this period.
But people who buy homes at today's going rate could face a nail-biting year or two if values dip in the near future.
Appraisers need to take many things into consideration when assigning values. One of those factors is what potential buyers are offering. At the moment, offers are running much higher than previous appraisals. So appraised values have spiked.
"The appraisers have done a pretty good job of keeping up with the offers," Hodges said.
But if prices cycle back down, appraisals will follow suit. And today's buyers could find themselves owing more than their homes are re-appraised for. The effect will be mild, Hodges believes. He doesn't see home prices going down, or even stabilizing, anytime soon.
"Especially in the Traverse City market," he said. "I just don't see that. I think they're going to level off, some people are going to lose $10,000 or $15,000 value on higher-end homes. But I don't think people are going to end up upside down and lose their house."
Real estate prices have been going up not only in Traverse City, but across northern Michigan, according to Zillow. Home values in Charlevoix increased by 12 percent, and by similar margins in Kalkaska, Benzie and Antrim counties. The median home value in Leelanau is now more than $375,000 — almost $50,000 more than when the pandemic began.
"In the rural areas, everything is just skyrocketing. Everything is being snapped up quickly," said Julie Howe, owner of Boardman Appraisal Associates in Traverse City.
"I believe the primary reason is there is so much attraction to our area — there's so much to do here," she said. "Not only for families, but young couples and people starting out. There's so much lakefront and recreation."
She specializes in rural home appraisals and works in an area that stretches from Cadillac to Munising deep in the Upper Peninsula. Much of her work is in Charlevoix and Emmet counties. Howe and a co-worker are busy.
"I'm so booked up right now," she said. "I'm booking into August. I'm turning down probably 20 to 30 orders a day."
The buyers benefiting from her services mostly are moving into the area from elsewhere.
"Most of them are on the younger side. I'm not seeing too many retirees, actually. It's definitely mostly from out of state and from downstate."
Many buyers are remote workers, freed by the pandemic to work away from the office.
"They seek places with Wi-Fi, and definitely fiber optics seem to be the rage," said Howe.
Rising housing costs along the East Coast made northwest Lower Michigan look like a bargain to people from Boston, New York City, Philadelphia and Baltimore. Compared to oceanfront houses near those cities, Lake Michigan or Torch Lake homes are relatively cheap. A two-hour airline flight to Michigan can take less time than a heavy-traffic drive to the seacoast.
Those remote workers are snapping up houses in and around Traverse City and throughout northern Michigan. That's frustrating for house-hunting locals like Sebastian and Holly Garbsch.
"We finally saved up enough for the down payment two years ago," said Sebastian Garbsch. "I wish in 2019 we would have been more aggressive, because — had we done that — we would have paid less than we're offering now."
But back then, they had no idea a pandemic was on the horizon, or that the sudden ability to work remotely would attract so many people to the Grand Traverse area. As that was beginning to happen, the couple stepped up their house-hunting efforts.
"Last summer, we were more aggressive, but still not quite aggressive enough," Garbsch said.
He and his wife hope their targeted postcard approach, combined with their personal story, will help them reel in a lakefront home.
"I would imagine there are people who have lived in a house for 30 or 40 years, and they'd love to see someone local end up with their beautiful property," he said. "Maybe they would take the exact same offer — even if it wasn't a cash offer, if it was a mortgage — if they just knew the story.
"If they get a comparable bid, they might like to see their property stay local. So that was kind of the thought process for the postcards.
"I like the postcards because, as much as I really want to be creative in finding a place on Spider Lake, I didn't want to be invasive and start leaving notes on people's doors," said Garbsch. "I figured this way — doing it through the post office — you're still respecting people's privacy. You're not knocking on their doors. I wouldn't appreciate that. I figured this was a more non-invasive, more respectful way."
The area targeted in the couple's USPS delivery included both sides of the roads that encircle Spider Lake. So some recipients didn't fit the target of lakefront homeowners.
One homeowner in a selling mood responded to the couple's postcard, but lives on the landlocked side of the road. Garbsch referred the homeowner to the Realtor friend who has shown he and his wife countless houses in the last two years and handled their unsuccessful offers. Garbsch jokingly said he hopes the referral acts as partial payback to the Realtor for two years of work.
Garbsch would like to hear from anyone ready to sell a house on Spider Lake or Arbutus Lake. Contact him at sebastian@bluegoattc.com.