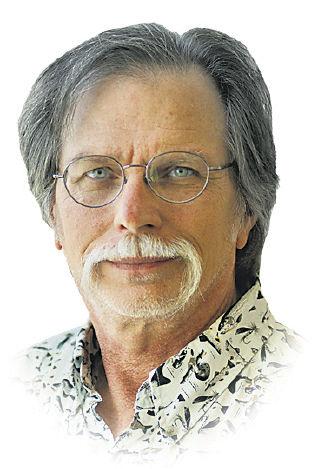 RANDVILLE — A decoration of snow buntings got up, en masse, flitted around, and settled back down a few yards away. It is how they do. If you didn't know they were birds, you'd have thought they were simply frosted leaves, picked up by a whirlwind, and deposited back aground when it died out.
I was reminded of a story I wrote as a young reporter at a Lenawee County daily almost 50 years ago. It was a feature story about a gal in one of our communities who wrote a regular column on bird watching. She had been in a car accident as a college student that crushed her spine and left her largely immobile. Her column, "Through My Window," talked about what she saw from her bed. She had to dictate — she had almost no use of her arms — but her column was upbeat and, if I dare say, inspirational.
I remember asking her if there was a bird that she hadn't seen that she hoped would visit her feeder. She didn't hesitate; she said she wanted to see a snow bunting.
I doubt she did. I remember, many years later and several tiers of counties further north when I was afield with a couple of Department of Natural Resources types, seeing the snow buntings doing their thing. The wildlife biologist told me that this was as about as far south as snow buntings, which nest largely in the Arctic, ever got. And the habitat where I've always seen them, has been cropland, not backyards in town.
But I hope she saw one. It's all she wanted. I see them virtually every year at camp, simply by happenstance.
It makes you think.
It was the third morning of the firearms deer season, but my first morning in a blind at our camp. I missed opening day in the Upper Peninsula for the first time in 30 years because The Woman I Live With and I had tickets to see the Rolling Stones in Detroit. The show — which was great, by the way — was originally scheduled for June of 2020, but it got COVIDed, and when it was rescheduled, it was for Nov. 15, 2021.
What kind of jabroni schedules anything of significance for Nov. 15 in Michigan?
I didn't want to miss opening day. (And I didn't; I hunted, uneventfully, in a bean field in Calhoun County.) But you've got to figure that another Stones tour is unlikely; heck between the time the tour was announced and it commenced, drummer Charlie Watts had died.
You can't always get what you want.
So I didn't make the seven-hour drive to our camp until the second morning of the season. I arrived in early afternoon and was taking a nap in my truck when my brother-in-law shot a six-point.
I was happy for him and, frankly, a bit surprised, as the landowner had told me not to expect much this year as a pack of wolves had taken up residence on the place and deer numbers were way down. He told me this same thing about a decade ago and that season, with five of us in camp, I saw a grand total of two deer over four days. And I was the only one who saw any.
My first afternoon in the blind was uneventful until, with about 30 minutes of shooting time remaining, a pair of does wandered into the harvested potato field I was guarding. A short time later, a small spike-horned buck came out and started tailing them. A little later, a pair of spikes came out together; the original spike abandoned his mission and headed back toward them. He engaged with a somewhat larger spike, locking horns, and pushing for a couple of minutes until he had enough. They weren't really fighting, just sort of bodying each other like the jocks in the high school cafeteria line do. A testosterone thing, I guess.
Aside from that I was entertained by a single tom turkey that afternoon and the next morning. It was the only time I'd ever seen a single turkey up here while deer hunting. Usually they show up in flocks of a dozen or more. This guy was busy, yelping and putting and gobbling, sort of saying, "Where is everybody?" He meandered around slowly until he decided to cover some ground and then, with a Groucho Marxian canter, moved about 100 yards and started making noise again. That second evening I saw one of the spikes again.
My partners left and I spent my last day at camp in a different blind, this one on the edge of a rye field. I saw a doe and fawn at first light, a small buck — I called him a spork horn as one of his antlers had a bit of palmation at the end — at mid-morning, and nothing the rest of the day until right before the end of shooting time, a pair of antlerless deer (the same doe and fawn?) wandered back into the rye, a couple hundred yards away. That was it.
I hadn't anticipated shooting a buck; I've moved on to targeting mature bucks and I figured any buck that lasts three years or more out there has enough sense to split when the wolves — my brother saw two, twice — are hanging around.
Still, it was a good camp. The snow buntings were glorious.