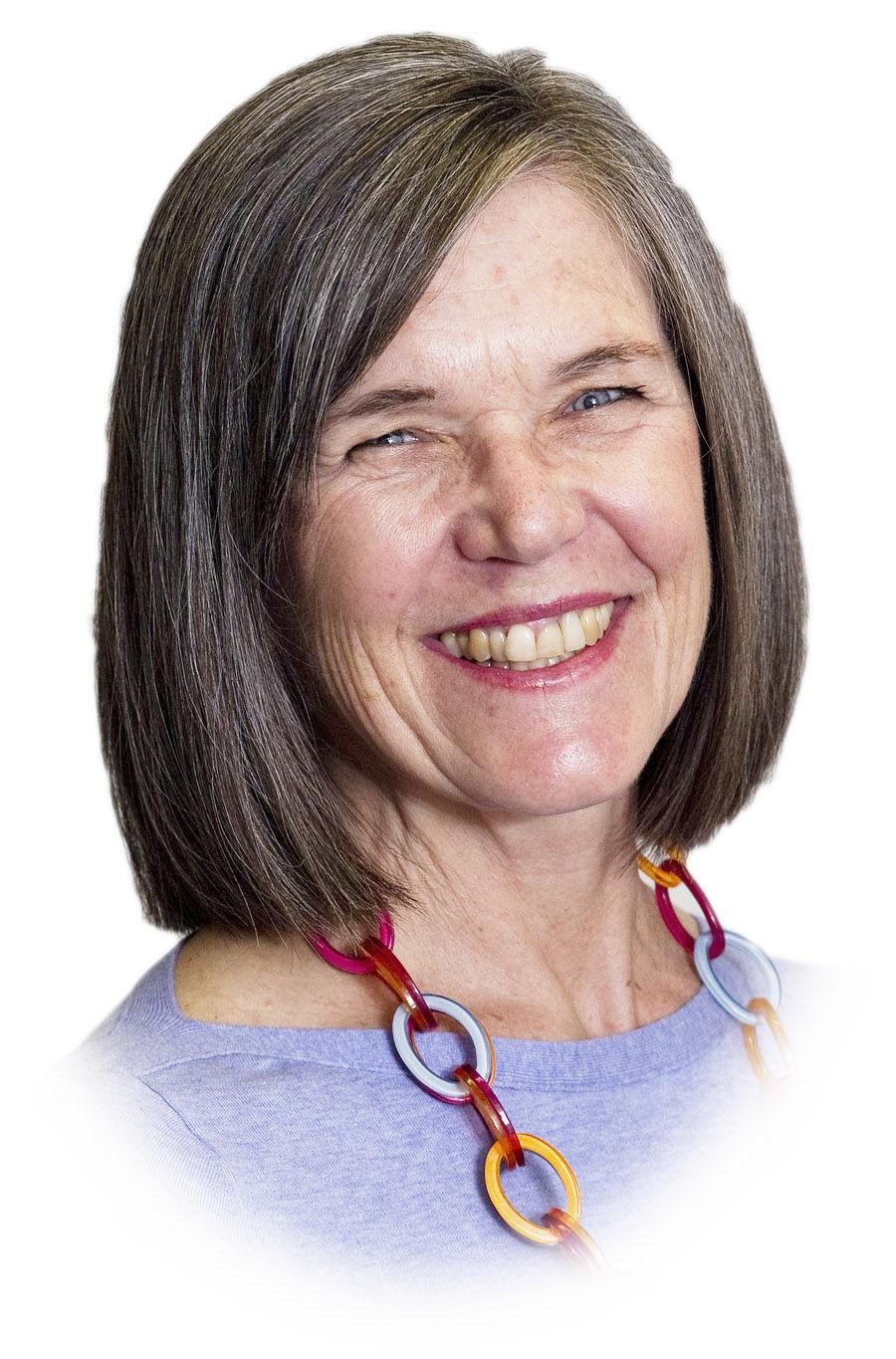 A friend recently told me about her Thanksgivings in Hong Kong. For a few years, she and her husband hosted one or two sailors who were stationed on the American ship that came into the harbor for the holiday weekend. She said it was a great experience; her family even got invited to board the naval ship for a tour the year they hosted the second in command.
Ann's story made me think about some of our most memorable meals that were enriched by an unexpected guest at the table. We had our share of the usual suspects — the neighbor who could not travel to their family over the holidays because of a storm, a co-worker new to town, the friends our children brought home from college.
Sometimes, though, the invitations to the table were more serendipitous. Like the evening not long ago when our former neighbors called to say they would be nearby, and we invited them for supper. I used my husband Eric's truck to go to Hansen's grocery store to pick up a couple of items before they arrived for this impromptu meal. Another friend, Seth, spotted the truck in the parking lot and after wandering the aisles looking for him, called his number. Eric said he was home and told him to come over.
Eric promptly set the table for one more, and when Seth arrived, he was surprised to learn he was going to be sharing supper with us. We added potatoes to the pot, divvied up the lamb chops, and opened more wine. Seth is a great storyteller and made the evening so much fun.
Last month, we had a dinner party for 12, a mix of friends and acquaintances, some who knew each other and others who did not. At the last minute, Brianne called to tell us her husband was not able to come. Eric suggested she invite her friend, Kathryn, an artist who works in a studio next to hers, to be her date for the evening.
At the table, the two friends shared the tale of getting to know one another during COVID — conversing over the wall of their adjoining spaces (the 8-foot walls are open at the top,) and greeting each other with masked faces when they met in the hallway. Their friendship grew, and we laughed as they told us it was months later before they even knew what the other person looked like. They were excited to be together this evening at our house and to meet our friends. That night I also learned Brianne makes an incredible apple pie.
A few years ago, we answered a knock at the front door. Two young women in their 20s were standing there. It was a warm September day, and one of them asked if they could pick the rosehips on our bushes that lined the sidewalk. "Of course," we said, "please help yourselves." I noticed that they were barefoot and had a happy hippie vibe. I excused myself as I was too busy to visit and went back inside to finish preparing our part of the Sunday supper feast we were having with our neighbors that evening.
Eric was outside, cleaning off the pergola table and chairs, and setting up for cocktail hour. He came in and told me he invited the girls to have a glass of wine with us. I knew from past experience this would transition to an offer to stay for supper. I added more pasta to the main course to accommodate two more guests.
The girls were delightful and did stay for supper. They shared stories of their travels back here after being on the West Coast, and of living in tents by the Boardman River until they could figure out housing and work.
The rosehips were for making tea, and they foraged for other edibles in the area. They were carefree and seemed unconcerned about their living situation. I was glad they had a car and a phone.
Eric took down their phone number before they left that evening. The next day, he made a call to someone we know who had a gardening business and asked if she could use some helpers.
She did, and he connected the girls to her. A month went by and one of the girls called to thank Eric, letting us know she was now living with her sister and her family, and that her friend found a room to rent in town.
We invited the young woman to join us for another Sunday supper. That night we heard about her song writing and playing the cello at venues around town. At the end of the meal, she excitedly made an announcement: she was having a baby. We stayed in touch and offered our help when she needed it.
As the time grew near for the child's arrival, the young woman told us the father of the baby would be flying here for the birth. She asked if he could stay with us. We were so pleased he was coming, of course we said yes. The birth went smoothly, and we got to meet the baby in the hospital shortly after she was born. We also came to know another fine young person, the father, a musician with a good heart. He moved here a few months later to be with his daughter.
Not all invitations lead to such dramatic events, but it does go to show you never know what might happen when you invite a stranger to the table. On a simpler level, we have discovered that often the shift from acquaintance to becoming a friend happens at the table, a product of sharing a meal. Perhaps it is because sitting together at a table unifies the pleasure of eating with the desire for a social connection. And that food provides a universal conversation starter.
Think about mixing it up during this very social time of the year and invite someone you don't know well to a holiday meal. That unexpected guest might just warm your heart in ways you did not expect.
Squash Soup
It may be hard to think about cooking again after you have put together a big feast but eat we must! I like to go a bit lighter after the richness of a Thanksgiving meal.
Serves 6 – 8
2 lbs. winter squash: butternut, acorn, or sugar pumpkin, peeled and cut into 1" chunks
1 T. olive oil
1 t. butter
2-3 leeks, white part only, sliced, about 2 cups
1 T. chopped fresh thyme, or 1 t. dried
1 T. chopped fresh sage
Salt and pepper to taste
5 -6 C. chicken or vegetable broth (depends on the water content of the squash)
Garnish:
Fried sage leaves
Garlic croutons
In a large soup pot, heat the oil and butter over medium low heat. Add the leeks and cook, stirring, until softened but not brown. Add chunks of the squash, herbs, and a little salt and pepper. Stir, then cover and cook about 5 minutes. Add 5 cups of broth or more to cover the squash and bring to a boil over high heat. Lower heat to low, cover and simmer about 25 minutes or until the squash is tender. Remove from heat and let cool slightly. Puree the soup in batches in a blender and return the puree to the pot. Taste for seasoning and add more salt or pepper if needed. Serve warm with garnish.
You could make the soup with leftover pumpkin puree or roasted squash.
— Rose Hollander
Vegetable Couscous with Turkey
I love the how the subtleties of the spices in this dish transport it, and how the many vegetables make it a one-pot dish. Feel free to substitute vegetables you have on hand; a variety of four is a good mix, aim for different colors.
Serves 4-6
2 T. olive oil
1 large onion, cut into chunks
1 large red pepper, cut into chunks
4 carrots, peeled and cut into 2" rounds
½ head broccoli or cauliflower, broken into florets or 2 zucchini, cut into 2" pieces
2 ¼ to 2 ½ C. chicken, turkey, or vegetable broth
1 C. golden raisins or other dried fruit
¾ t. cinnamon
½ t. turmeric
1 ½ C. couscous (I like the larger Israeli couscous for this dish)
1 ½ C. leftover turkey or chicken, cubed
Optional:
1/3 C. green olives, halved
Parsley for garnish
Heat oil in a large heavy pot over medium heat. Add onions and cook about 5 minutes. Add pepper and carrots, stir, and cook another 5 minutes. Add broccoli and cook 3 minutes, then add the broth, raisins, cinnamon, and turmeric. Bring to a boil.
If using regular couscous, stir in, cover, and turn off the heat to let stand 10 minutes. If using the larger couscous, add and lower heat, cover, and cook about 5 minutes, then let stand, adding more hot broth if needed. I like to warm the meat separately and serve on top of the couscous, but you could add the meat to the final resting stage to warm it with the couscous.
— Rose Hollander
Panna Cotta
Here is a light dessert that is easy to embellish depending on the fruit or sauce you use. I love making it with buttermilk but you can substitute whole milk instead.
Makes 6-8 small servings
2 T. water
1 ½ t. unflavored gelatin
1 C. heavy cream
1 t. finely grated lemon or orange peel
½ C. sugar
2 C. buttermilk
1 t. vanilla extract (or try ½ t. almond)
Chopped fruit, toasted nuts, frozen berries
Lightly wipe the insides of 6 – 8 small cups or ramekins with vegetable oil. Set aside.
Place water in a small bowl and sprinkle gelatin over the water. Let stand to soften, about 10 minutes.
Heat cream, peel, and sugar in a saucepan over medium heat, stirring to dissolve sugar. Increase heat and just bring it to a boil, stirring occasionally. Add gelatin mixture and take off the heat. Cool to lukewarm, then add the buttermilk and extract. Divide among the ramekins and refrigerate at least 4 hours to set.
Prepare the fruit, cutting into small cubes, finely chopping the nuts. I like to macerate the fruit in some brandy or other liqueur for a few hours. You can make a nice sauce by pureeing berries with a little sugar or using a fruit jelly warmed and thinned with a little water.
To serve: You can either unmold the panna cotta by running a knife around the edges and holding a small plate over the top, flip to release the custard. Or simply serve it in the ramekin. Pour sauce over the top, then add fruit on top and nuts around the sides.
— Rose Hollander, adapted from Epicurious