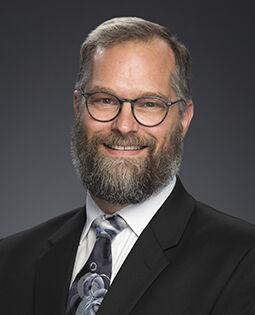 The Traverse Symphony Orchestra is enjoying one of our most diverse and exciting years in the 70-year history of the symphony.
As I share the news of all of the new community-focused programming that we are providing to our region this year, I want to actually start 4,600 miles away in Bratislava, Slovakia. This fall, Traverse Symphony Orchestra principal conductor Kevin Rhodes was named chief conductor of the Slovak National Theatre in Bratislava. So, now in addition to his ongoing work at LaScala in Milan, and in Rome, Vienna, and Oslo, our own Traverse Symphony maestro holds one of the major and most sought-after European conducting positions. Bravo, bravissimo, Maestro Rhodes!
The good news is that you don't have to travel to Bratislava, or even Vienna to see Maestro Rhodes. You can see him conduct our "Home for the Holidays" concert on Dec. 17-18 at Lars Hockstad Auditorium, or perhaps you'd like to see him conduct Beethoven's 7th Symphony on Jan. 22 at Corson Auditorium. Maybe in addition you would like to hear the maestro at the piano with guest violinist Andrew Sords at The Cathedral Barn at Historic Barns Park on Feb. 11-12.
I mention these three events out of our 21-concert season to illustrate the diversity of Traverse Symphony Orchestra offerings. We have four formal concert series — our Symphony Series, in Corson Auditorium; our Traverse Symphony Jazz Orchestra Series, in City Opera House and Lars Hockstad Auditorium, our Maestro Series recitals in The Cathedral Barn; and we have just completed our first Sherry Milliken Reum & Family Summer Concert Series at The Botanic Garden.
Offering this variety of concert styles and venues is part of a post-pandemic strategic commitment to provide cultural entertainment that removes barriers to participation for all members of our community. It is our goal to make our concerts captivating, affordable and geographically accessible. We provide a vital cultural resource for northern Michigan that includes extensive educational programming, in addition to our concert series.
The education programs of the TSO are engaging in the same rapid expansion as the concert programming. We currently collaborate with the Traverse Area District Library and Kindermusik with programming for children 5 and under with our Tots@TADL programs. We work with TCAPS to provide TSO in the Schools programming, and have been successful with outreach to Leland, Frankfort and Midland with our Masterworks in Miniature education programs, partnering with professional musicians, singers, dancers, and artists from throughout our community. TSO education also provides online classes led by Dr. Angela Lickiss Aleo including "First Nights: Five Musical Premieres," and our newest offering, beginning Nov. 21, "Impressionism: Musicians and Artists."
I am excited to share the news of our new Traverse Symphony Suzuki School, led by TSO violinist Ann Marie Van Patten and TSO violist Kim Teachout. The premise of this program is that we believe that every child can thrive in a positive and nurturing learning environment, and that learning music is beneficial to the well-being of every child. This is accomplished through weekly private lessons and weekly group classes that provide a vital community in which to belong, inspire, explore and grow.
Through all of these concerts, educational offerings, and community outreach, the TSO provides truly world-class experiences here in northern Michigan. Oh, and in case you would like to experience the international reach of the TSO for yourself, we are organizing a trip to Austria and Slovakia, June 12-20, 2023, to hear Maestro Rhodes share our northern Michigan culture with Europe as he conducts Verdi's "Aida" at the State Theatre in Bratislava.
To learn about all these programs and more please visit the Traverse Symphony Orchestra website: TraverseSymphony.org