1. Members of a family touring a safari park in South Africa were nearly the victims of a carjacking last year. A terrifying video of the incident is only just now going viral.
In related news, lions can apparently open car doors.
---
2. Funny looking $5 bills are showing up in Canada. But they're not illegal. In fact, to Star Trek fans, they're a perfectly logical way to pay, as it were, tribute to Leonard Nimoy.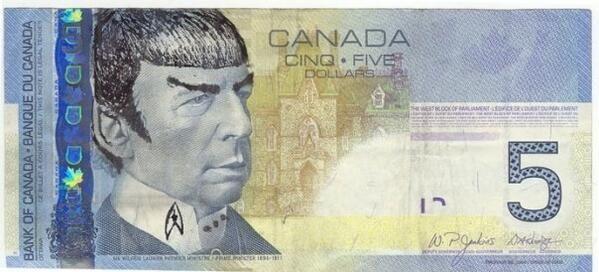 Practitioners call it "Spocking"—doctoring the face of former Canadian Prime Minister Wilfrid Laurier into the doodled likeness of Star Trek's Mr. Spock. The fad beamed its way onto the internet in the wake of Nimoy's death last Friday.
"Spock" your $5 bills for Leonard Nimoy pic.twitter.com/bKdKyC3l4q

— Design Canada (@The_CDR) February 27, 2015
According to the Bank of Canada, the currency altering craze isn't technically against the law, just the prime directive of good taste. 
---
3. Land-walking octopi, now un-flushable arachnids. Australia has apparently become a hotspot for all of of nature's nightmares.